FOR IMMEDIATE RELEASE:
powerHouse Books is pleased to announce the September 2022 Release of
A Land Between Worlds:
The Shifting Poetry of the Great American Landscape

by John Mack
From poet and photographer John Mack comes evidence of hope in a world where nature, freedom, love, democracy, and reality itself are under attack.
In an attempt to shed light on the current state of our nature, Mack embarked on a "reconnaissance mission": four years—300,000 air-miles aboard over 200 flights, 15,000 miles of road in over 25 car rentals, 220 miles of hiking, 7 helicopters, 6 seaplanes, 8 grizzly sightings, and 1 husky sled—spent crisscrossing America and nearly fifty of its iconic U.S. National Parks to discover what, if anything, our National Parks can teach us about the nature within us.
From Maine to Hawaii and the southern bend of Texas to the far reaches of Alaska's arctic circle, A Land Between Worlds shares Mack's vision of who we are in relation to our environment and looks for clues as to whether or not a balance between nature and today's increasingly seductive technology can be attained.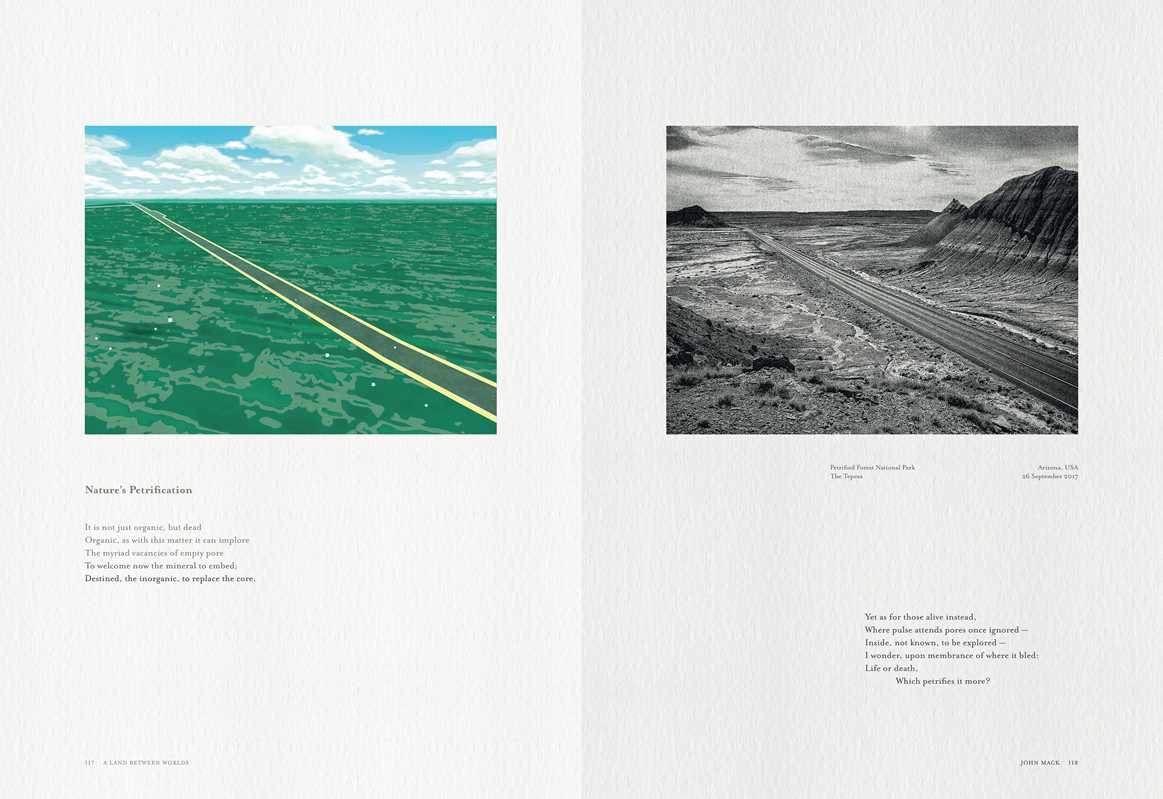 Mack uses poetry, landscape photography, and an interactive augmented reality app to invite us into a deep introspection about what it means to be human. This interactive juxtaposition of natural sanctuaries and their digital versions reveals the encroaching digital landscape, our attachments to it, and the uncertain fate of our nature.
| | |
| --- | --- |
| | |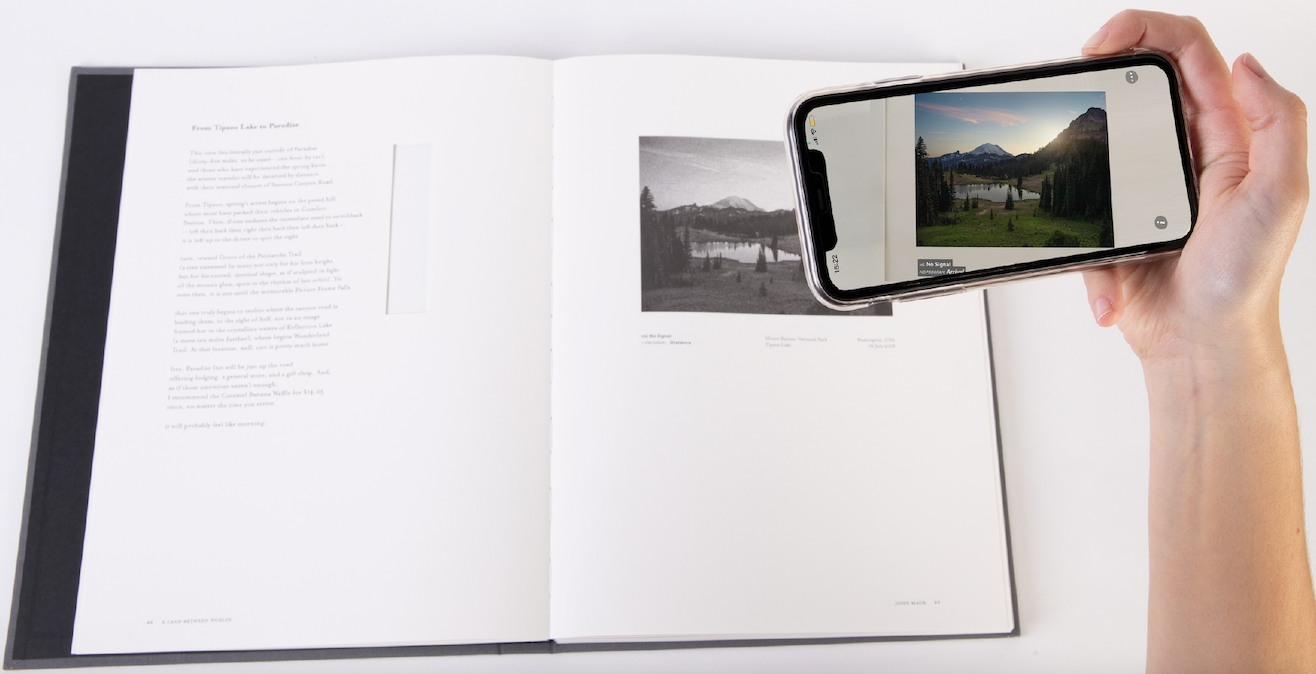 | | |
| --- | --- |
| | A Land Between Worlds is the official book of the widely anticipated interactive photography experience A Species Between Worlds: Our Nature, Our Screens, an immersive exploration of the space humans inhabit between the receding natural landscape and the encroaching virtual one. This groundbreaking month-long exhibition, open to the public in New York City throughout September, will attract some of the most influential voices at the forefront of the battle to defend human awareness from the threats that unchecked use of computer-based technologies pose to our humanity. The book includes not only all of the exhibition's U.S. National Park images but also the project's entire collection of poems, many of which are not on display to the public. |
Thinker and artist John Mack shares the poetry of nature as a counterpoint toward a world that is every day becoming all the more dependent on digital devices and algorithmic feeds. In 2021 Mack founded Life Calling Initiative, a not-for-profit aimed at helping society to live fulfilled lives in the digital age while retaining our humanity and personal autonomy.

Mack is the author of three previous photography books that all sought "real moments" of the human heart: Xibalbá: Lost Dreams of the Mexican Rainforest (2005), Revealing Mexico (2010), and Marseille: At Their Home (2018). He has appeared on Charlie Rose, The Martha Stewart Show, and The Today Show. He received third prize in the category of photography at the 25th Annual New York Book Show for Revealing Mexico. Mack's photography is represented by the Robert Mann Gallery in New York City.
To reach the publicity team of A Land Between Worlds, please email Roberta Zertuche at roberta@department-pr.com.

A partial preview is available here: A Land Between Worlds
Nature Photography / Artists' Books / Human Environment
Hardcover, 9.75 x 13.25 inches, 210 pages
ISBN: 978-1-64823-008-0, $75.00 US / $95.13 CAN
High-res scans to your specification are available upon request; scanning from the book or lifting images from the mechanical file are strictly prohibited. Mandatory credit line: From A Land Between Worlds by John Mack, published by powerHouse Books.
A Land Between Worlds: The Shifting Poetry of the Great American Landscape is available to order now through our website and book retailers.
A Land Between Worlds: The Shifting Poetry of the Great American Landscape
By John Mack
Hardcover, ISBN 978-1-64823-008-0 $75.00

Available for consumer purchase through our website.
Booksellers can purchase here through Edelweiss.
For more information please contact:
Publicity Department
publicity@powerhousebooks.com
212-604-9074 ext. 104
Facebook | Twitter | Instagram
© Copyright 2022 powerHouse Book