FOR IMMEDIATE RELEASE:
powerHouse Books is pleased to announce the April 2020 release of
Our Voices, Our Streets:
American Protests 2001-2011
by Kevin Bubriski
Foreword by Lucy McKeon; Afterword by Howard Zinn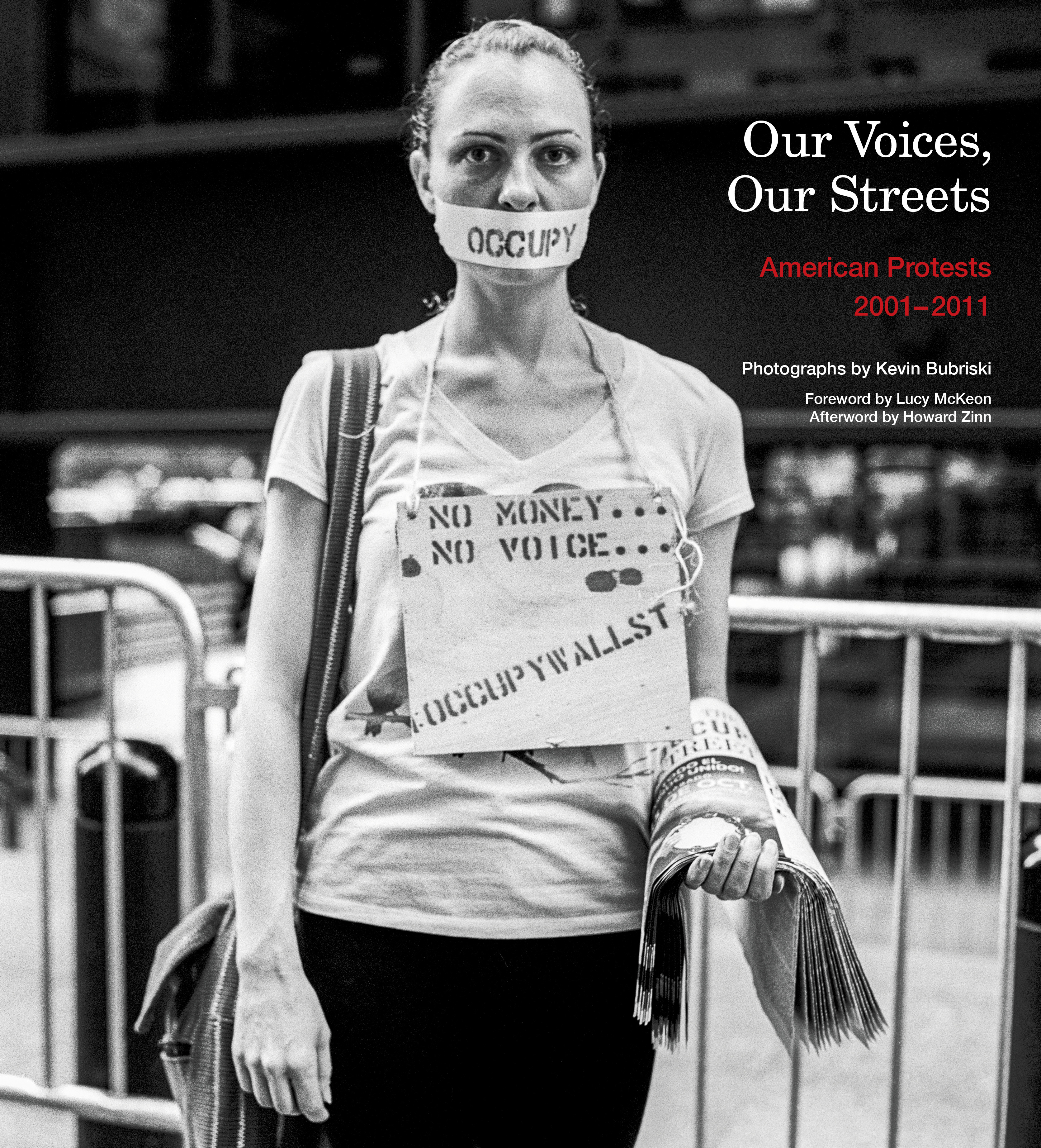 The American street has always been the ultimate public venue for political and cultural expression. This collection of images by Kevin Bubriski covers a decade of American street protest that began on January 20, 2001 with the inauguration of George W. Bush and ended with Occupy Wall Street in October of 2011.

The crowds in the street at the 2001 inauguration made it clear America was at a difficult and defining moment after a contentious election. Following the inauguration of 2001 and the tragedy of 9/11, the American streets— as they have been since the country's founding—became the setting for numerous memorials and vigils, parades and protests.

These photographs chronicle events in New York, Washington, D.C., and Vermont. The gatherings were large and sometimes small, and in both cases usually unnoticed by the mainstream media. These street portraits show a diversity of Americans: veterans, families of men and women on active duty, families of the victims of the 9/11 tragedy, parents of U.S. servicemen and women killed in the Iraq War, security personnel, police, Muslim Americans, anti-war activists, disenfranchised minorities, and anarchist youth. The common denominators that unite these images are the lens of the Hasselblad camera and the public stage of the American streets.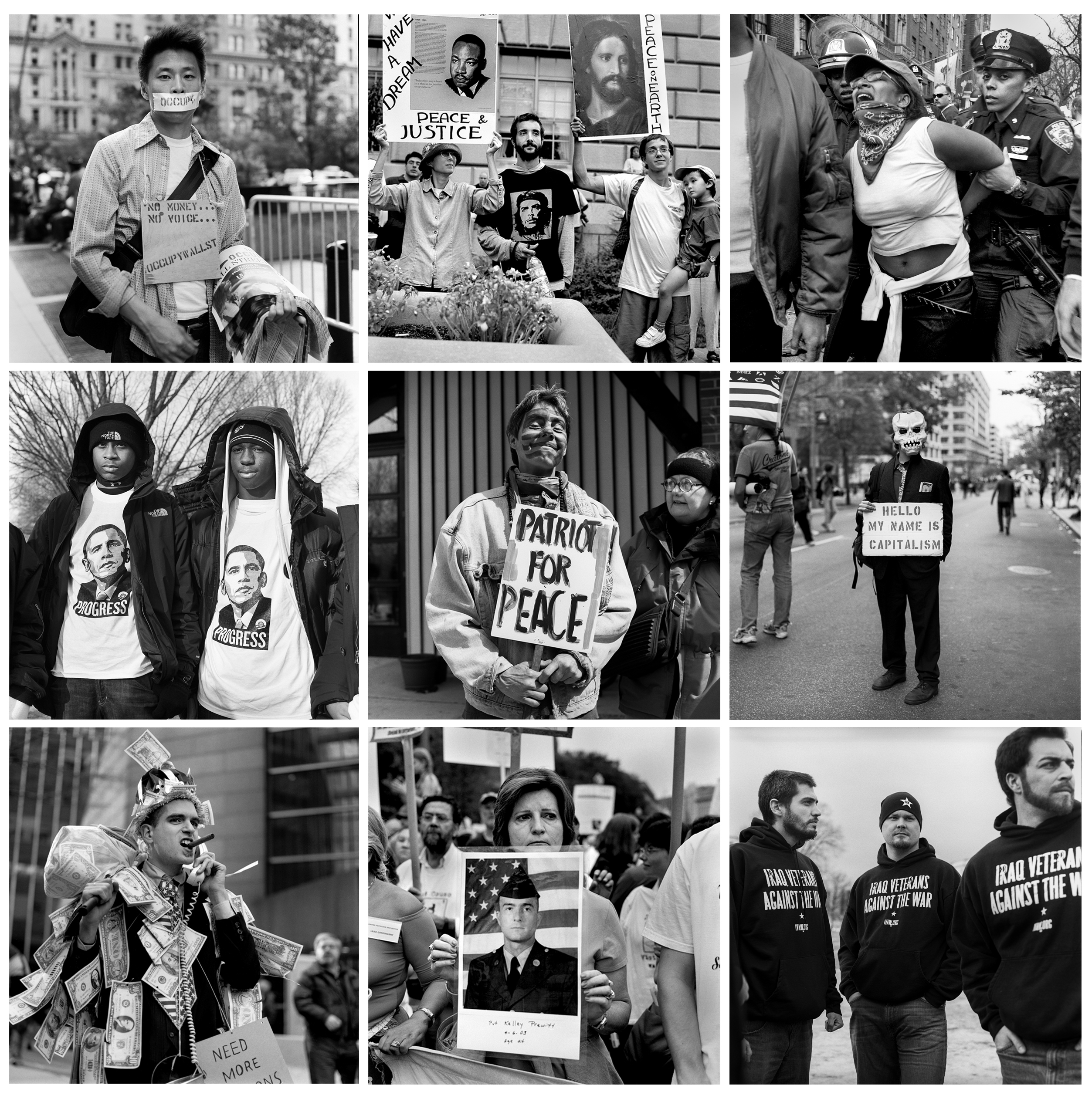 Kevin Bubriski's fine art photography is in the permanent collections of the Museum of Modern Art, Metropolitan Museum of Art, San Francisco Museum of Modern Art, and Bibliothèque Nationale, Paris, and he is the recipient of Guggenheim and NEA fellowships. Bubriski's books include Portrait of Nepal (Chronicle Books, 1993), Pilgrimage: Looking at Ground Zero (powerHouse, 2002), Look into My Eyes: Nuevomexicanos por vida 1981-83 (Museum of New Mexico Press, 2016), and Legacy in Stone: Syria Before War (powerHouse Books, 2018). His retrospective monograph Nepal 1975- 2011 was published by Radius Books and the Peabody Museum Press of Harvard University in 2014. From 2016–2017 Bubriski was a Senior Scholar Fulbright Fellow in Nepal, where he pursued his photography in Nepal's remotest regions. Bubriski lives with his wife in Vermont.

Lucy McKeon is a writer and editor at the New York Review of Books. She is working on her first novel.

Howard Zinn (1922–2010) was an American historian, playwright, and socialist thinker who grew up in poverty in the slums of Brooklyn. At the age of 18 he worked as a shipfitter in the Brooklyn Navy Yard, and in 1943, eager to fight fascism, joined the Army Air Corps as a bombardier over Nazi-occupied Europe. His war experiences drove him to question war, and inspired his deepening interest in history. From 1956 to 1963 he taught history and social sciences at Spelman College, and later was a professor of political science at Boston University until his retirement in 1988. Howard Zinn wrote over 20 books, including A People's History of the United States (1980), which became a bestseller that greatly influenced many to reconsider their understanding of American history.
A partial preview is available by clicking here: Our Voices, Our Streets
Photojournalism / Protests / History
Hardcover, 11-1/8 x 12-1/4 inches, 164 pages
ISBN: 978-1-57687-947-4, $50.00 US / $66.00 CAN
High-res scans to your specification are available upon request; scanning from the book or lifting images from the mechanical file are strictly prohibited. Mandatory credit line: From Our Voices, Our Streets by Kevin Bubriski, published by powerHouse Books.

For press inquiries, please contact:
Madison Morales
madison@powerhousebooks.com
Facebook | Twitter | Instagram