FOR IMMEDIATE RELEASE:
FOR NATIVE AMERICAN HERITAGE MONTH – A CALL TO ACTION IN ASSOCIATION WITH AMNESTY INTERNATIONAL
DIGNITY: In Honor of the Rights of Indigenous Peoples
Updated Second Edition
by Dana Gluckstein
Foreword by Archbishop Desmond Tutu
Introduction by Faithkeeper Oren R. Lyons
Epilogue by Amnesty International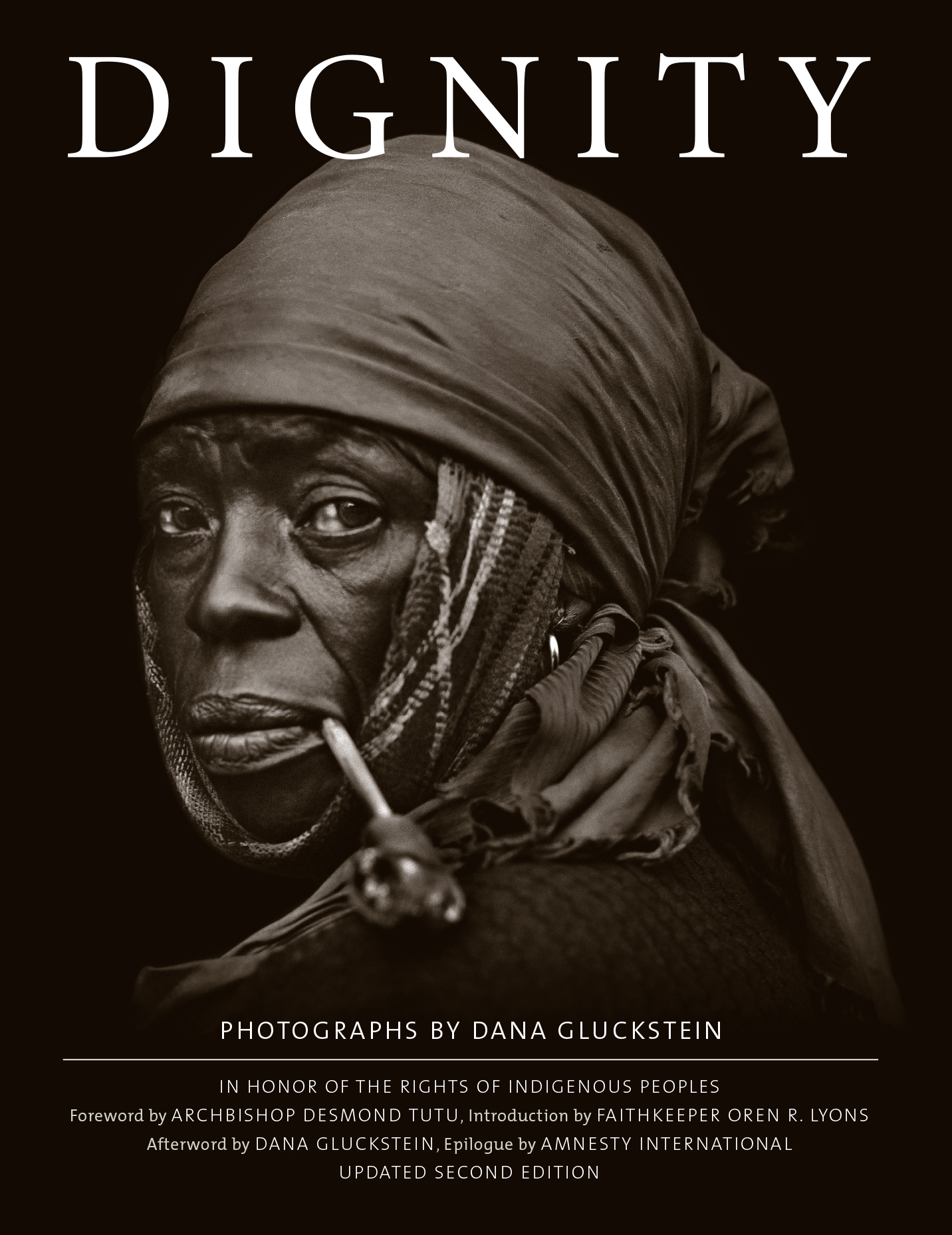 "When you sit in council for the welfare of the people, think not of yourself, nor of your family, or even your generation. Make your decisions for the seventh generation coming so that they may enjoy what you have here today. If you do this, there will be peace." That is a profound instruction on responsibility that should be the basis for the world's decision makers today."
– NATIVE AMERICAN FAITHKEEPER OREN R. LYONS in the INTRODUCTION
DIGNITY: In Honor of the Rights of Indigenous Peoples, an iconic collection of powerful portraits and text, is a critical call to action for Native American Heritage Month against racial injustice as well as a stunning art book for the 2021 holiday season. DIGNITY includes new Native American images and an epilogue from Amnesty International, "Freedom from Violence" which calls for the United States to take action against rape and assault of Native American and Alaskan Native women. More than one in three Native women will be raped at some point in their lives. DIGNITY is part of an urgent action alert campaign in association with Amnesty International USA.
Gluckstein spent three decades in the Americas, Africa, Asia, and the Pacific creating more than 100 black-and-white, duotone portraits that appear in DIGNITY and express the theme of "tribes in transition." In the decade since DIGNITY first appeared, Gluckstein's concerns over the treatment of Indigenous Peoples and her commitment to fighting on their behalf have only intensified. "DIGNITY is a call to action against racism," states Gluckstein. In the book's introduction, Faithkeeper Oren R. Lyons reveals the roots of racism in the medieval Catholic Church and its Doctrine of Discovery that condemned Indigenous Peoples as subhuman to be treated like animals - the justification for their conquerors to steal land and enslave the inhabitants.

The first edition of DIGNITY, a three-time winner of the International Photography Awards, helped create a turning point for the Obama administration to adopt the United Nations Declaration on the Rights of Indigenous Peoples – a historic milestone – in association with Amnesty International for their 50th anniversary. The UN Declaration, whose full text is reproduced in DIGNITY, is the most comprehensive global statement of the measures every government must enact to ensure the survival and well-being of Indigenous Peoples. It has empowered a worldwide movement of Indigenous Peoples to assert stewardship of the land, air, and water.
Gluckstein intends for the new edition, along with the associated U.S. traveling DIGNITY museum exhibition, to spur action on behalf of Native American and Alaskan women. More than one in three Native women will be raped at some point in their lives. Sexual assault is so common in these communities that many Native American and Alaska Native women don't know any women who haven't experienced the trauma. In addition, many perpetrators go unpunished. Gluckstein sees DIGNITY as contributing to the current effort to insure these women receive adequate post-rape care mandated by the U.S. Tribal Law and Order Act - Sexual Assault Protocols and the UN Declaration. "I believe in the power of images to shift consciousness."
"The Indigenous Peoples of the world have a gift to give that the world needs desperately, this reminder that we are made for harmony, for interdependence. If we are ever truly to prosper, it will be only together."
- ARCHBISHOP DESMOND TUTU
"DIGNITY (the book and museum exhibition) is a multifaceted, many-layered project that captures the collision of modernity and tradition, globalization and indigeneity with grace, elegance, and profound humanity."
–JILL DEUPI, CHIEF CURATOR OF THE LOWE ART MUSEUM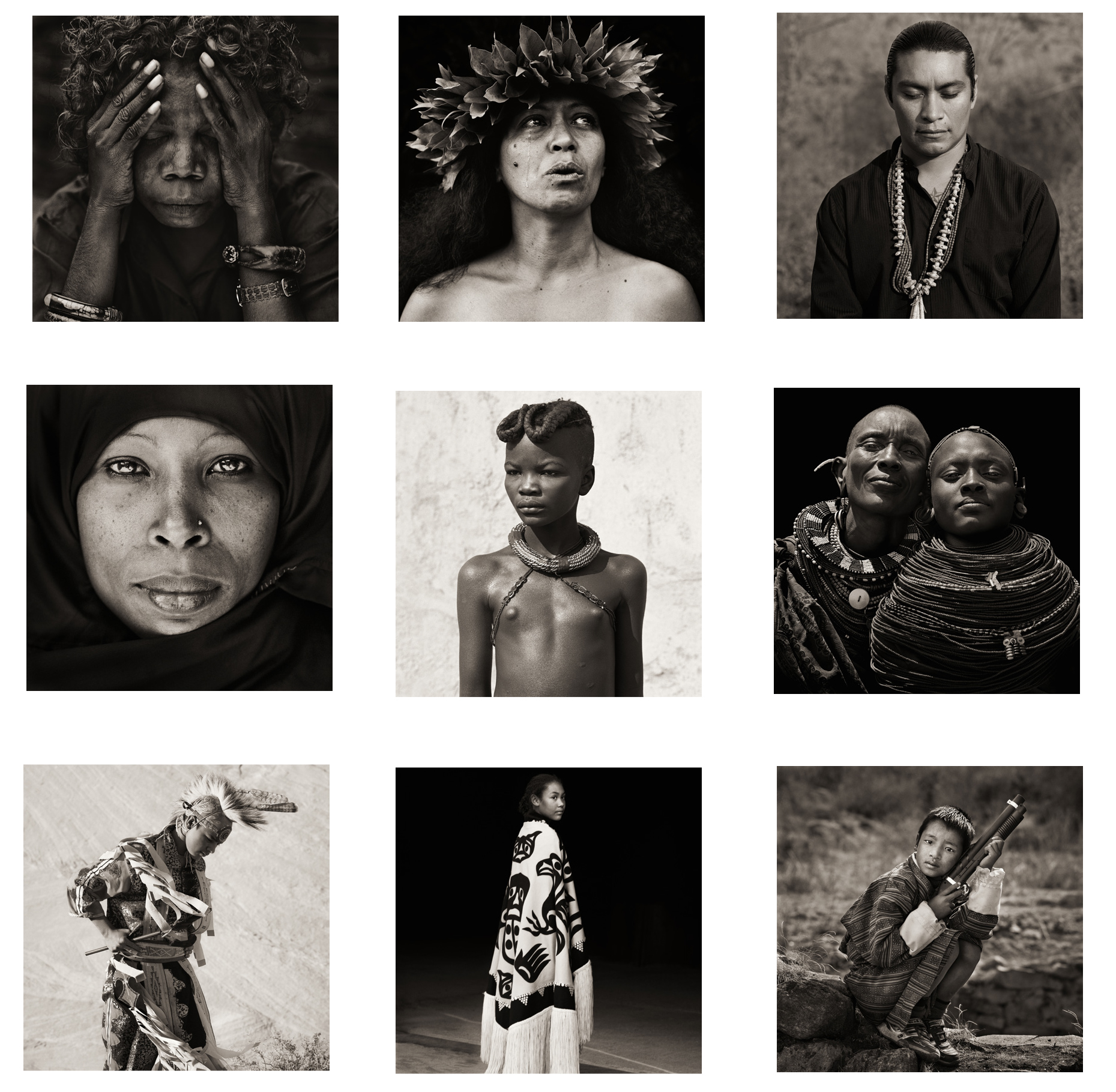 | | |
| --- | --- |
| | DANA GLUCKSTEIN has photographed iconic figures including Nelson Mandela, Mikhail Gorbachev, Desmond Tutu, and Muhammad Ali, as well as award-winning advertising campaigns for clients such as Apple and Toyota. Her portraits are held in the permanent collections of the Los Angeles County Museum of Art, the Santa Barbara Museum of Art, and the Smithsonian National Museum of African American History and Culture. Gluckstein's international museum exhibition, DIGNITY: Tribes in Transition, presented at the United Nations in Geneva and has been touring European and U.S. museums since 2011. She addressed the World Economic Forum in Davos, Switzerland in 2013 on how art can impact the state of the world. DIGNITY is a three-time winner of the International Photography Awards. Gluckstein graduated from Stanford University, where she studied psychology, painting, and photography, and realized the power of images to shape consciousness. She lives in Los Angeles with her husband and has two children. |
Photo credit: Dana Gluckstein

ARCHBISHOP DESMOND TUTU

received the Nobel Peace Prize in 1984 for his nonviolent resistance to apartheid. As an Anglican priest, he served as General Secretary of the South African Council of Churches and Archbishop of Cape Town. In 1995, President Mandela appointed him chairman of South Africa's Truth and Reconciliation Commission where he brought to light the atrocities of apartheid. In 2009, he received the Presidential Medal of Freedom, the United States' highest civilian honor. He now serves as Chair of the Elders, a group of eminent global leaders working to support peace and address the causes of human suffering.
Photo credit: Dana Gluckstein

OREN R. LYONS, FAITHKEEPER, TURTLE CLAN, ONONDAGA NATION

, co-founded the Working Group on Indigenous Populations for the United Nations in 1982, and helped develop the United Nations Declaration on the Rights of Indigenous Peoples. As a revered Native American elder and scholar, he has sat on the Council of Chiefs of the Six Nations in New York since 1967 and has taught Native American studies at New York State University at Buffalo for 37 years. He is a Distinguished Service Professor Emeritus and holds an honorary Doctor of Law degree from Syracuse University. He received the United Nations Earth Day International Award, the Elder and Wiser Award of the Rosa Parks Institute for Human Rights, and is honored in the American Indian and the National La Crosse Hall of Fame. He is guided by the Six Nations' democratic principles of governance by the people, which requires decision-making on behalf of the "seventh generation coming."
AMNESTY INTERNATIONAL is a Nobel Peace Prize-winning global movement of more than 7 million people who campaign for a world where human rights are enjoyed by all. The organization investigates and exposes abuses, educates and mobilizes the public, and works to protect people wherever justice, freedom, truth and dignity are denied.
A partial preview is available by clicking here: DIGNITY
Indigenous Peoples / Sociology / Photography
Hardcover, 9-1/4 x 12 inches, 144 pages
ISBN: 978-1-57687-922-1, $45.00 US / $66.00 CAN
High-res scans to your specification are available upon request; scanning from the book or lifting images from the mechanical file are strictly prohibited. Mandatory credit line: From DIGNITY: In Honor of the Rights of Indigenous Peoples by Dana Gluckstein, published by powerHouse Books.
Bookstores: please contact your Simon & Schuster representative, or order directly by calling 1-800-223-2336 or emailing Purchaseorders@simonandschuster.com. Also available through Ingram.

For contact at powerHouse Books:
publicity@powerhousebooks.com
Facebook | Twitter | Instagram

© Copyright 2020 powerHouse Books