FOR IMMEDIATE RELEASE:
powerHouse Books moves publishing headquarters to Industry City
After some 15 years years in Dumbo, Brooklyn, powerHouse Books has set sail to….Industry City, in Sunset Park, Brooklyn! The move coincides with the opening of the POWERHOUSE Bookstores' new third location, POWERHOUSE @ IC, in the Food Hall of Building 2 abutting the New York Harbor.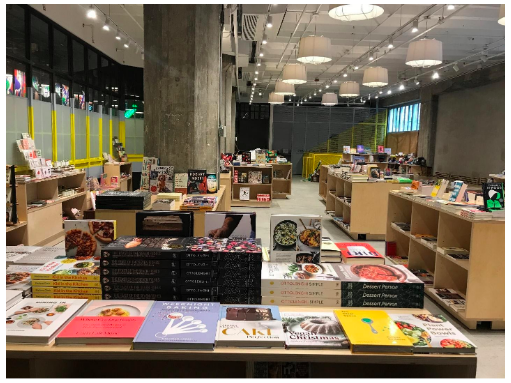 The publishing company offices will occupy a dedicated section of POWERHOUSE @ IC, a 2,300-square-foot bookstore located in the Food Hall in Building Two. The space includes a lower level which powerHouse will use as an exhibition space and rare and archival showroom, featuring recently discovered archives of first and signed and limited edition sets with original art. The publishing team looks forward to stepping back into the public eye and inviting the community in to celebrate creativity and the art of photo and illustrated publishing, and marvel at its 25 years of industry firsts.

World-renowned and critically acclaimed illustrated book publisher powerHouse Books was launched in 1995 by founder and publisher Daniel Power, and is best known for its diverse publishing program, specialized in fine art, documentary, pop culture, fashion, advertising and marketing, and sundry celebrity art titles. Over the last decade, powerHouse has expanded its portfolio with the creation and distribution of packaging line (powerHouse Packaging & Supply, 2011), a woke kids' book line (POW! Kids Books, 2013) and a new millennial fiction and non-fiction line (Archway Editions, 2020).

In 2005, powerHouse Books moved from Hudson Square area of Manhattan to D.U.M.B.O. (as it was then called), Brooklyn. In the fall of 2006, it launched a massive 10,000-square-foot space called The POWERHOUSE Arena, which became a legendary boutique bookstore and event space on the ground floor, and publishing operations on the upper level (some events, such as the New York Photo Festival, 2008-2012, took over both floors). In 2016 the store was moved to 28 Adams Street in Dumbo. Delayed by Hurricane Sandy in 2012, the second bookstore POWERHOUSE on 8th, located at 1111 8th Avenue in Park Slope finally opened. And finally, delayed by Covid-19, the third location at Bldg #2, 220 36th Street in Industry City is at last debuting.

POWERHOUSE @ IC is a 2,300-square-foot bookstore centrally located in the Food Hall building of Industry City (Building #2, 220 36th Street, Brooklyn, NY 11232). The new space boasts an open-concept layout, bright yellow accents, and hand-painted table signage. POWERHOUSE @ IC features the curated selection of fiction, nonfiction, photography, design, and art books that POWERHOUSE fans know and love, along with an extended kid's area with a dedicated Spanish Language section. The new addition of Spanish Language books for children and adult readers alike draws inspiration from the surrounding Latinx community of Sunset Park.

As POWERHOUSE @ IC continues to cement itself as a cultural touchstone for the community, the store plans to offer unique book events focusing on design, DIY, food, drink, and entertaining, as well as tech and craft industries, incorporating the vibrant creative spirit of Industry City. Of course, the store will also feature Kid's Events such as Story Time, which will eventually utilize the pink-lit stage prominently featured in the new kid's section.