FOR IMMEDIATE RELEASE:
powerHouse Books is pleased to announce the June 2015 release of
One Thing Leads to Another
By Dan Stiles, Foreword By Paul Grushkin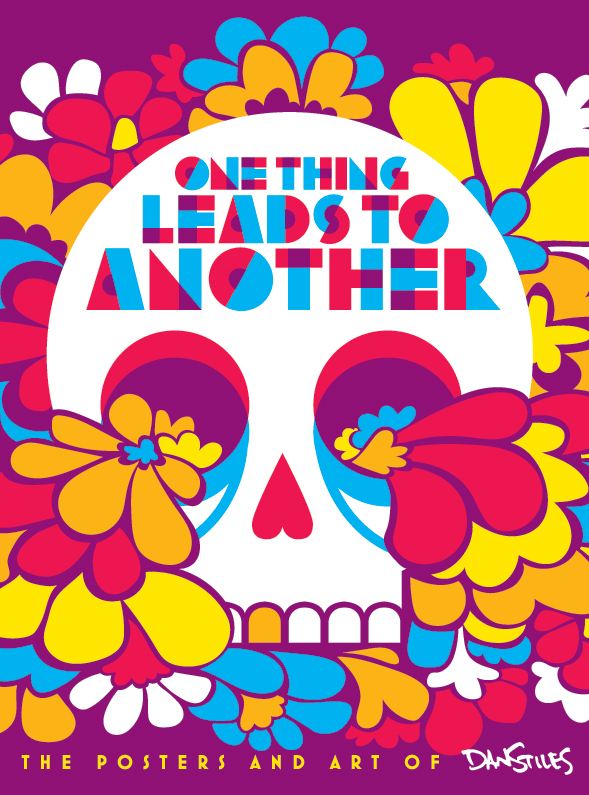 As a teen in Ann Arbor, Michigan, making foodie sandwiches and eavesdropping on art department meetings, Dan Stiles never dreamed his vibrant, pared down work would become the face of modern indie rock posters, but, like the title says, One Thing Leads to Another. Today Stiles' design world encompasses not just posters but international advertising, book jackets, children's illustration and even fabric design. A typical Stiles project is equal parts minimalism, work ethic, and graphical wit resulting in images that resonate with a simple authenticity that leaps off the page. Stiles has done it all in One Thing Leads to Another, from Beck to Bonnaroo, with copious stops along the way.
If you are a design aficionado, indie music devourer, or graphics student, you will appreciate the compelling art complimented by Stiles' down-to-earth descriptions of cultivating his creative craft. From the iconic Arctic Monkeys poster of a psychedelic woman "pulsing with highness" to a chicken being choked by the neck squawking, "The Melvins," Stiles fuses the metaphoric with the depraved for a visually enticing ride. On the Stiles express, there are no destinations, only departures. 
Over the past twenty years, Dan Stiles has collaborated with everyone from indie bands to major corporations in creating posters, identities, advertising, custom packaging, and limited edition collectable art and merchandise. His clients range from Arctic Monkeys, Sonic Youth, and Wilco to the X Games, IBM, and Old Navy. He draws from a broad swath of influences including classic skateboard graphics, album covers, modern art and design, children's books, comics, psychedelia, and vintage advertising. Dan recently published two children's books, Put on Your Shoes! and Today I'm Going to Wear . . . He lives with his wife and daughters in Portland, Oregon. Website: http://www.danstiles.com. 
For more than forty years, Paul Grushkin has been recognized as an expert in rock concert poster history, and for several years was concert promoter Bill Graham's personal and company archivist. He is the author of seven books on music and posters, all bestsellers worldwide. Grushkin lives in the San Francisco Bay Area and contributes to newspapers, magazines, radio, and blogs. He lectures extensively about rock concert history, concert poster history, and pop culture of the '50s through the present day.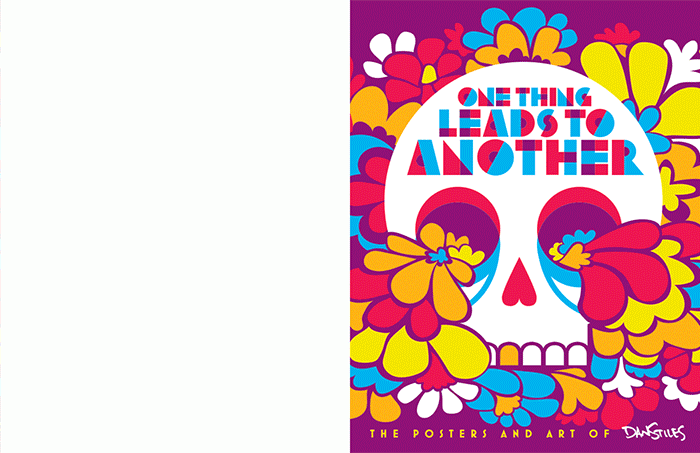 Design / Graphic Arts / Illustration
Paperback, 8-1/2 x 11 inches, 176 pages
ISBN: 978-1-57687-740-1, $24.95 US/CAN
A preview is available by clicking here: One Thing Leads to Another.
High-res scans to your specification are available upon request; scanning from the book or lifting text and images from the mechanical file are strictly prohibited. Mandatory credit line: From One Thing Leads to Another by Dan Stiles, published by powerHouse Books.
Facebook | Tumblr | Twitter | Instagram
For more information, please contact Allyssa Kasoff, Publicist
powerHouse Books, 37 Main Street, Brooklyn, NY 11201
Tel: 212-604-9074 x142, Fax: 212-366-5247, email: allyssa@powerHousebooks.com

© Copyright 2015 powerHouse Books