FOR IMMEDIATE RELEASE:

Daily News sets up elaborate take-down of photographer Steven Hirsch and his new publication Gowanus Waters, and bans powerHouse Books from any forthcoming news coverage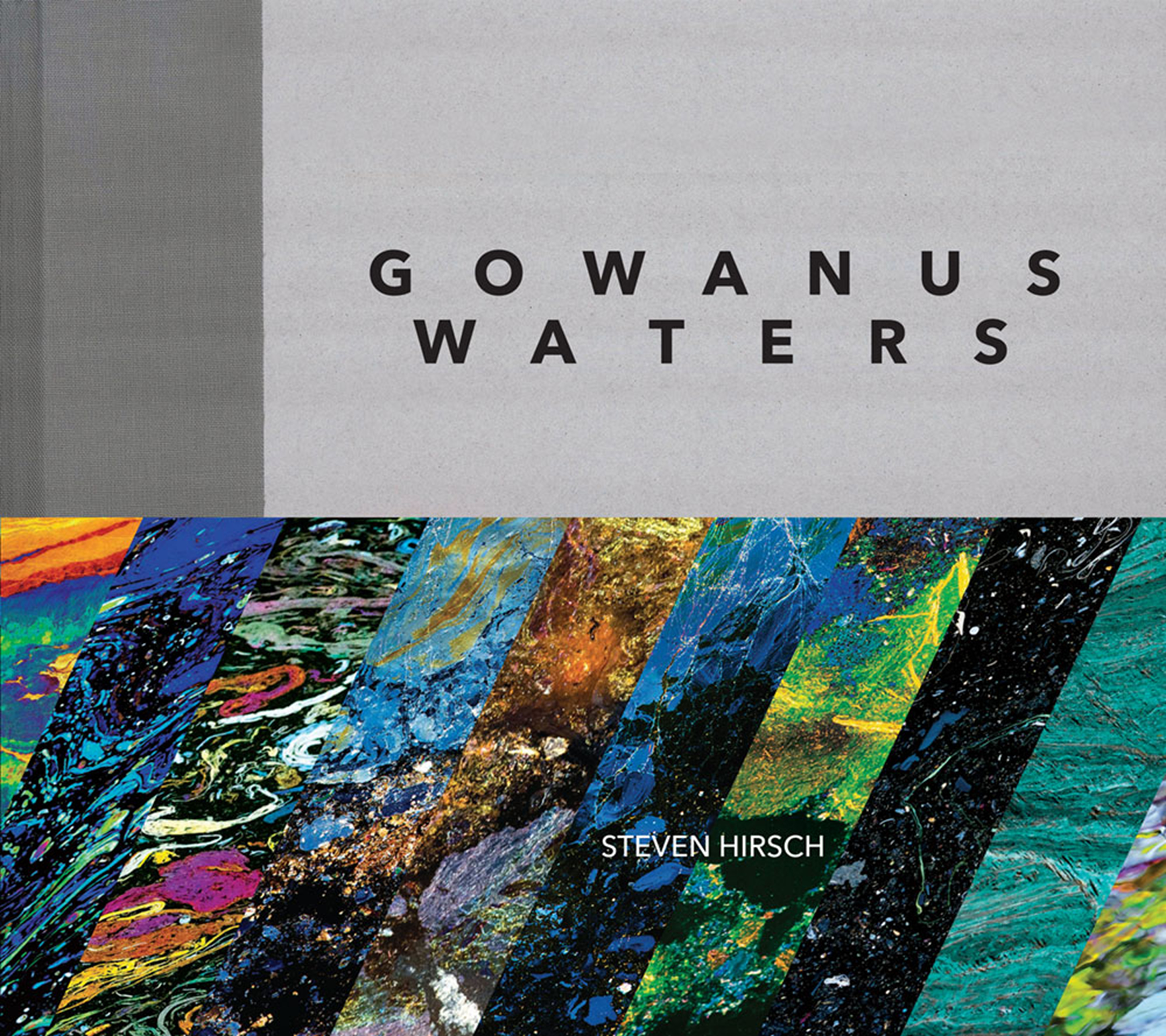 On March 4, a news piece on an art book of abstract colors created by the pollution of the waters of the Gowanus Canal was cleared editorially by the Daily News only to be removed hours later, due to the fact the artist contributes to another newspaper on material totally unrelated.
The New York Daily News published an online interview with photographer Steven Hirsch, whose new book Gowanus Waters was just published by powerHouse Books. A spectacular photo gallery accompanied the enlightening piece by the News' multimedia editor Maria Bailey.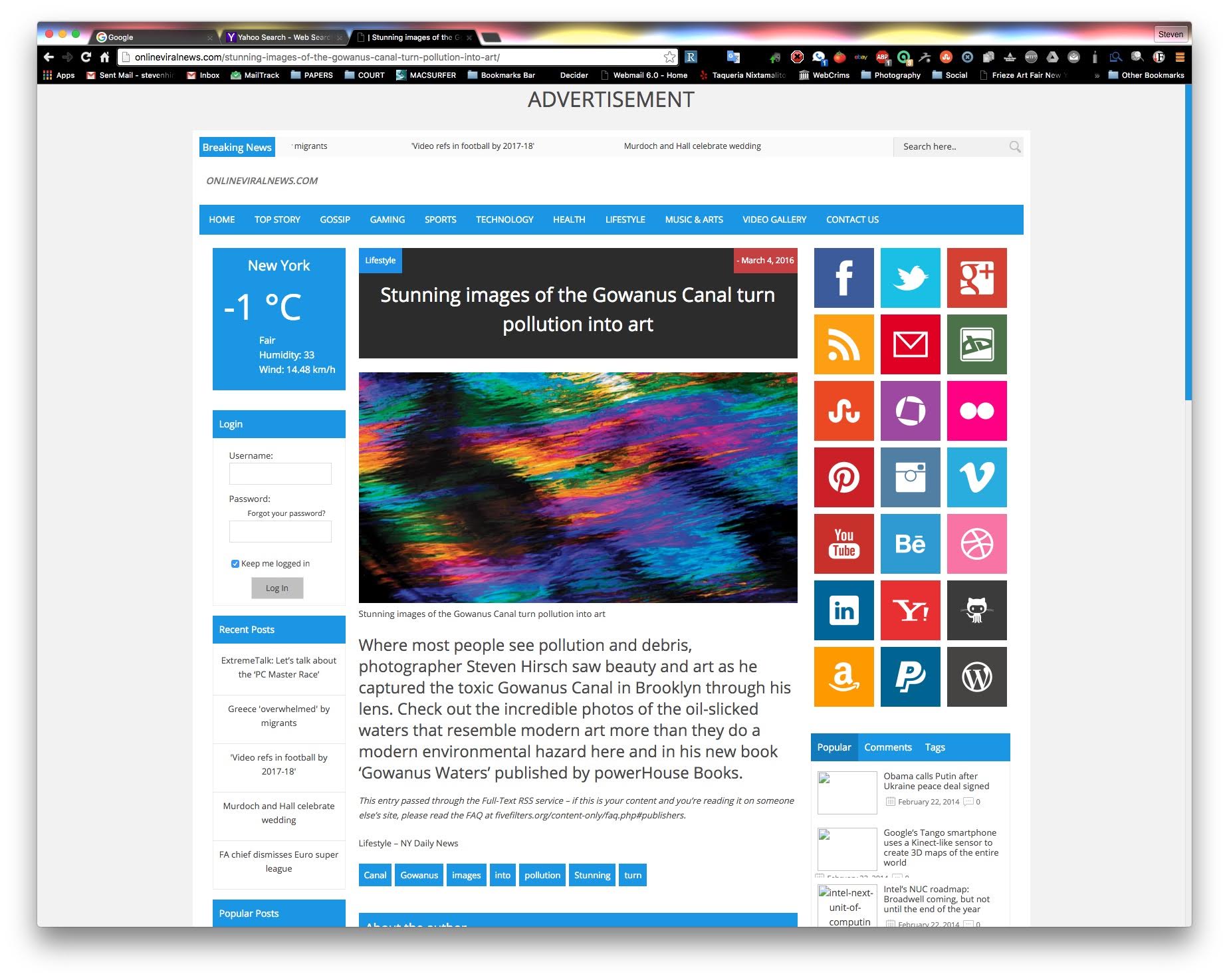 Press notices and updates of the piece were eleased to the publishing company's sales reps in the region and on its and the artist's social media sites.
Later that day the link to the interview and photo gallery went dead. When queried, Daily News Director of Photography Kevin Macdonald asserted that due to the fact that Hirsch is the "main Manhattan courts photographer for the New York Post," he felt it necessary to "remove the gallery out of respect to our photographers (and reporters) who compete with Mr. Hirsch on a daily basis."
CEO of powerHouse Books Daniel Power wrote to complain to News DP Kevin Macdonald and Editor-in-Chief Jim Rich. A transcript of the email exchange follows:
Power: You got to be f***ing .kidding me; we publish photographers of all stripes, no matter who they work for and what they do for a living. We work with newspapers and editors to bring content of local and audience market interest for mutual benefit. Now, your readers of Brooklyn and NYC at large are being deprived [of the interview and photo gallery] because he's a stringer for a rival newspaper?
Macdonald: Get over yourself…You don't have a clue what you're talking about.
Power: You do know what I'm talking about. Spiking a story due to complaints from staff, who don't want projects by photographers they compete with during working hours appearing in the publication they work for. 1) Unethical, 2) deprives your readership of something they might find interesting, 3) spineless.
Rich: Daniel, I don't know you, but I'm not going to sit here and listen to this bullshit. I guarantee you there will be no further coverage/business with this newsroom and your company again. Take your unprofessional nonsense elsewhere.
Power: You publish a piece of cultural news coverage and your own employees whine and make you take down. Why? The artist contributes to another paper. That's not a real news operation. That's bullshit. You should be held accountable for providing a disservice for your readership.
Rich: Sue me.
Instead of suing, PowerHouse Books would like an apology from New York Daily News and would like to see the gallery back up on the site.
******************
For more information, please contact:
Madison Morales
powerHouse Books, 37 Main Street, Brooklyn, NY 11201
madison@powerhousebooks.com
Facebook | Twitter | Instagram
© Copyright 2016 powerHouse Books

View web version
Unsubscribe here