FOR IMMEDIATE RELEASE:
powerHouse Books is pleased to announce the April 2018 release of
A Detroit Nocturne
Photography by Dave Jordano
Text by Karen Irvine

Following the critical acclaim of his debut book Detroit: Unbroken Down (powerHouse Books, 2015), celebrating the indomitable spirit of its inhabitant defenders, Jordano returns to his city-muse but, this time, with a more somber tone. While his earlier book focussed on the resilience of Detroit's citizens, A Detroit Nocturne captures the city by night, without people, through a series of eerie portraits of buildings and street scenes. The city's wound-down vacancy and stillness, lit at night with ominous perspectives, reflects an almost post-apocolyptic tension-yet-calm. One is forced to discern human presence through small clues: a lone light on in a window, a Jesus deity overlooking a shrine, a headless mannequin beckoning on a street corner. These details function as a bonfire on an unnamed beach: we are here, we have survived. Our environment will outlast us.

Before fathoming this human story, the viewer comprehends only form: lines, light, shadow, composition, depth-of-field. Jordano, in many ways, feels like a student of the post-Dusseldorf School, combining the poeticism of Henry Wessel with the loneliness of Max Regenberg. The mise-en-scene becomes clear only later: neon light dispersing into fog, angular shadows cast on a sidewalk, bright paint flaking off a warehouse wall. Above them, transmission lines, billboards, and street lamps gaze on, like urban idols. Welcome to Detroit.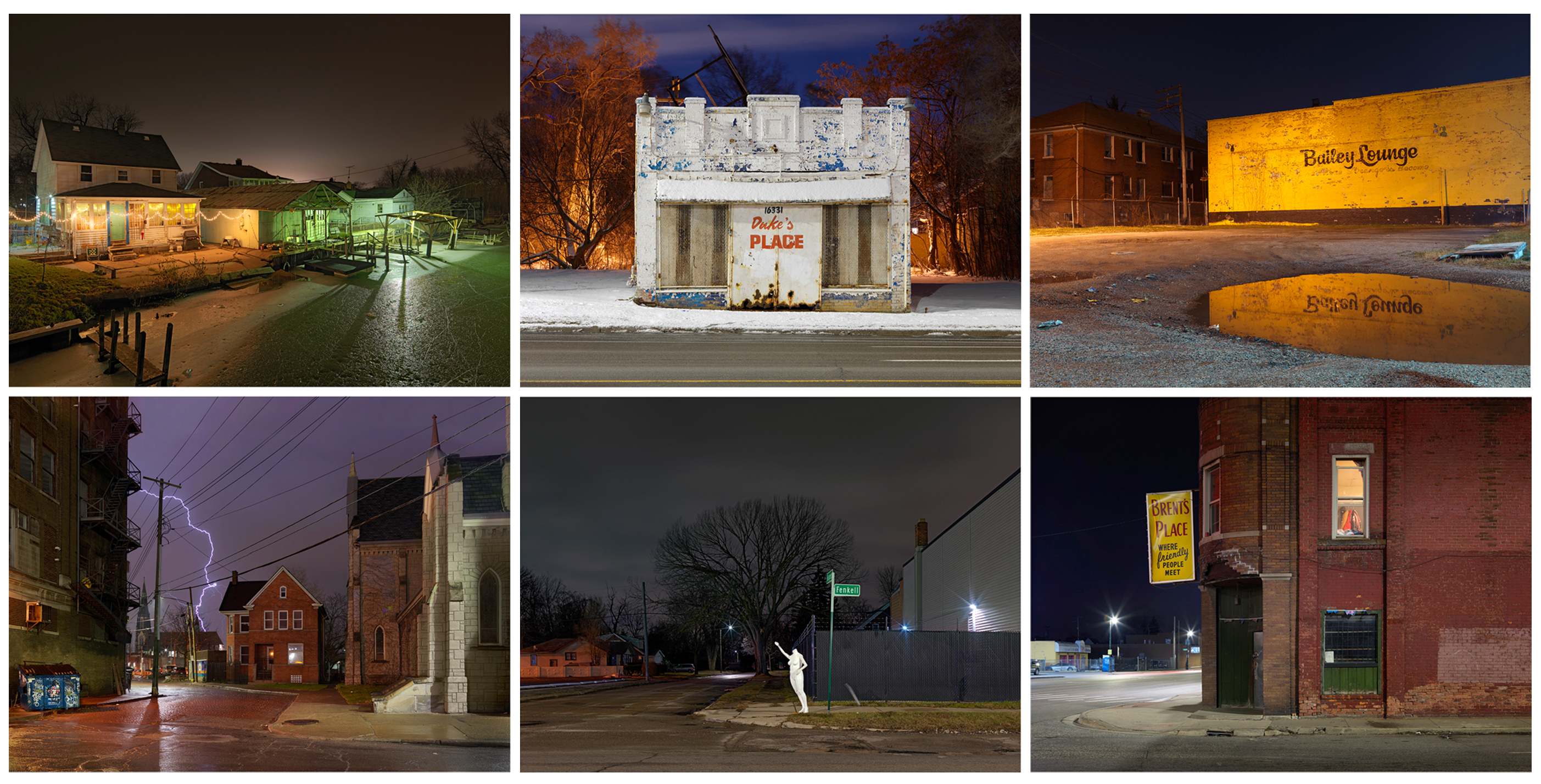 Dave Jordano was born in Detroit, Michigan in 1948. He received a BFA in photography from the College for Creative Studies in 1974. In 1977 he established a successful commercial photography studio in Chicago, shooting major print campaigns for national advertising agencies. Jordano is the author of Detroit: Unbroken Down (powerHouse Books, 2015) and has exhibited nationally and internationally and his work is included in the permanent collection of several private, corporate, and museum institutions, most notably the Museum of Contemporary Photography, Chicago; the Museum of Fine Arts Boston; the Museum of Fine Arts Houston; the Detroit Institute of Arts; the Detroit Historical Museum; The Mary & Leigh Block Museum of Art at Northwestern University, Evanston; Library of Congress, Division of Prints and Photographs; the Harris Bank Collection; and the Federal Reserve Bank.

Karen Irvine is Curator and Associate Director of the Museum of Contemporary Photography at Columbia College Chicago. She has organized over forty five exhibitions of contemporary photography, at the MoCP and other venues including the Hyde Park Art Center; Rockford Art Museum; Lishui International Photography Festival, China; Daegu Photography Biennale, South Korea, and the New York Photo Festival. Irvine has contributed texts to many publications including FOAM, Art on Paper, and Contemporary magazines, and monographs including Ann Lislegaard: Eyes Wide Open (The Royal Museum of Photography, Copenhagen); Paula McCartney: Non-flights of Fancy (Princeton Architectural Press); Barbara Probst: Exposures (Steidl); Redheaded Peckerwood by Christian Patterson (MACK), and Stefan Heyne Speak to Me (Hatje Cantz), amongst others. She has a BA in French and International Relations from Tufts University, Medford, MA, an MFA in photography from FAMU, Prague, Czech Republic, and an MA in art history from the University of Illinois at Chicago.
High-res scans to your specification are available upon request; scanning from the book or lifting images from the mechanical file are strictly prohibited. Mandatory credit line: From A Detroit Nocturne by Dave Jordano published by powerHouse Books.