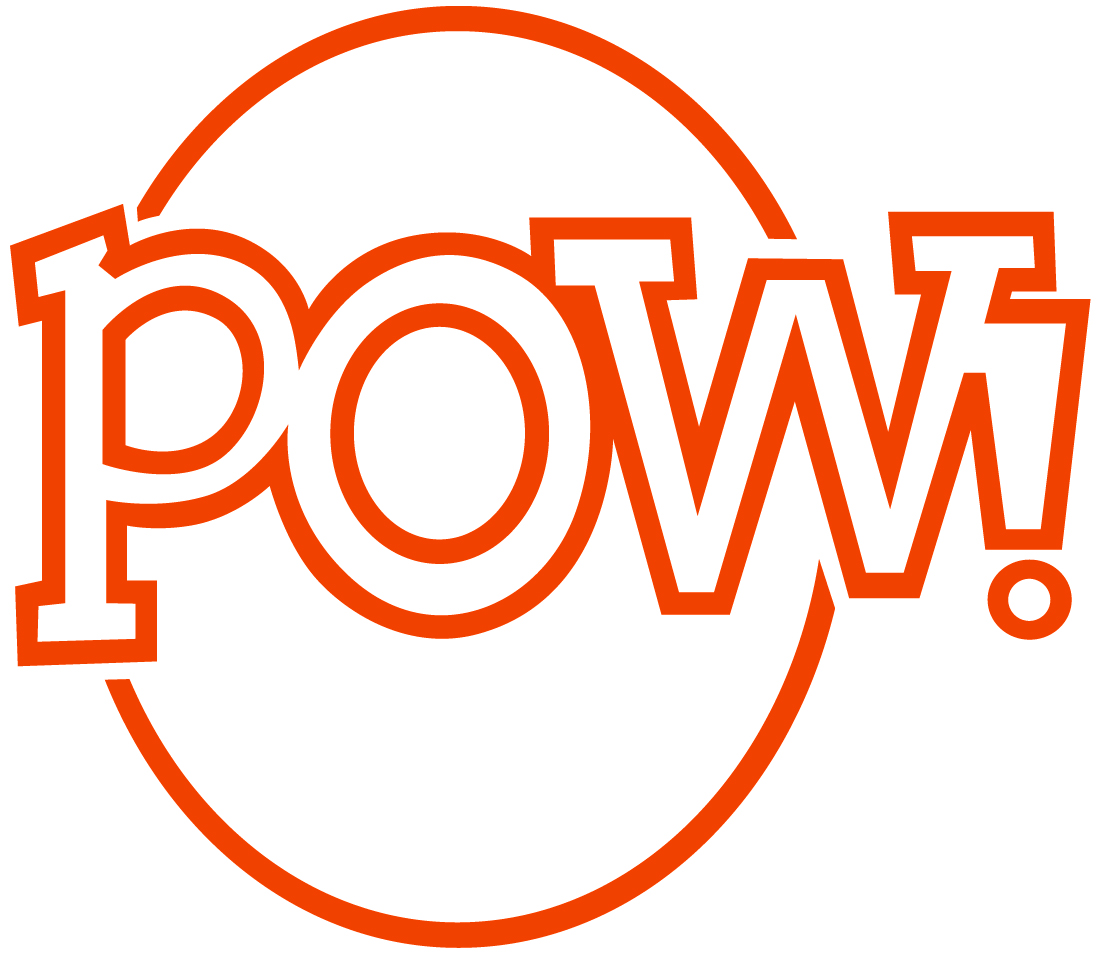 FOR IMMEDIATE RELEASE:
On Sale Decemeber 2018
Spectacularly Beautiful: A Refugee's Story
Written by Lisa Lucas
Illustrated by Laurie Stein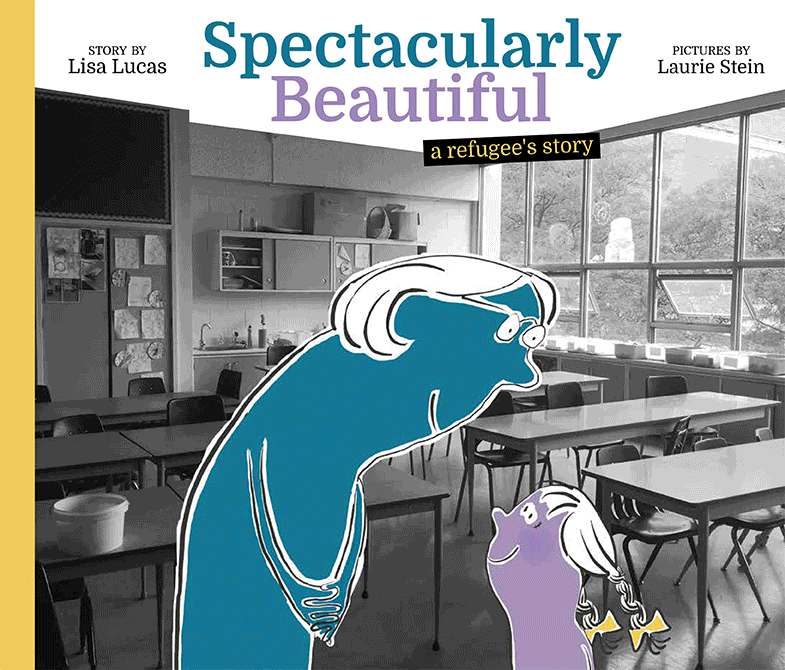 "Based on a true refugee story, this deep and hopeful book sports colorful, simplified shapes depicting students and their teacher. Stein does not attempt realistic depictions. The children look like jelly beans with limbs, facial features, and hair, and their all-blue teacher is only very slightly more detailed; all are digitally collaged over black-and-white photos of a Western classroom. This surprisingly effective choice allows readers to concentrate on the characters' emotions...This heartening, well-crafted story refreshingly places its emphasis on its protagonist's resilience."
—Kirkus Reviews (Starred Review)

"Stein's illustrations — black-and-white photographs of the classroom, school and nearby areas, populated with cartoon images done with the simplest of lines and filled in with flat colors... — effectively bring out Lucas's poignant parable." —The New York Times Book Review

Spectacularly Beautiful tells the story of Shahad, a refugee who has moved to a new country and started at a new school with her new teacher, Ms. Truong. Shahad comes to school every day with perfectly braided hair tied in ribbons. But her hair can't hide the scars on her face and leg that are painful reminders of the country she fled, making her feel less than beautiful, and different from her peers. When a class project proves difficult for Shahad, Ms. Truong helps her come to see that her scars are only part of her story, and that she is not just beautiful...she is spectacularly beautiful. Little by little Shahad's confidence is renewed and she is able to return the same kindness to Ms. Truong.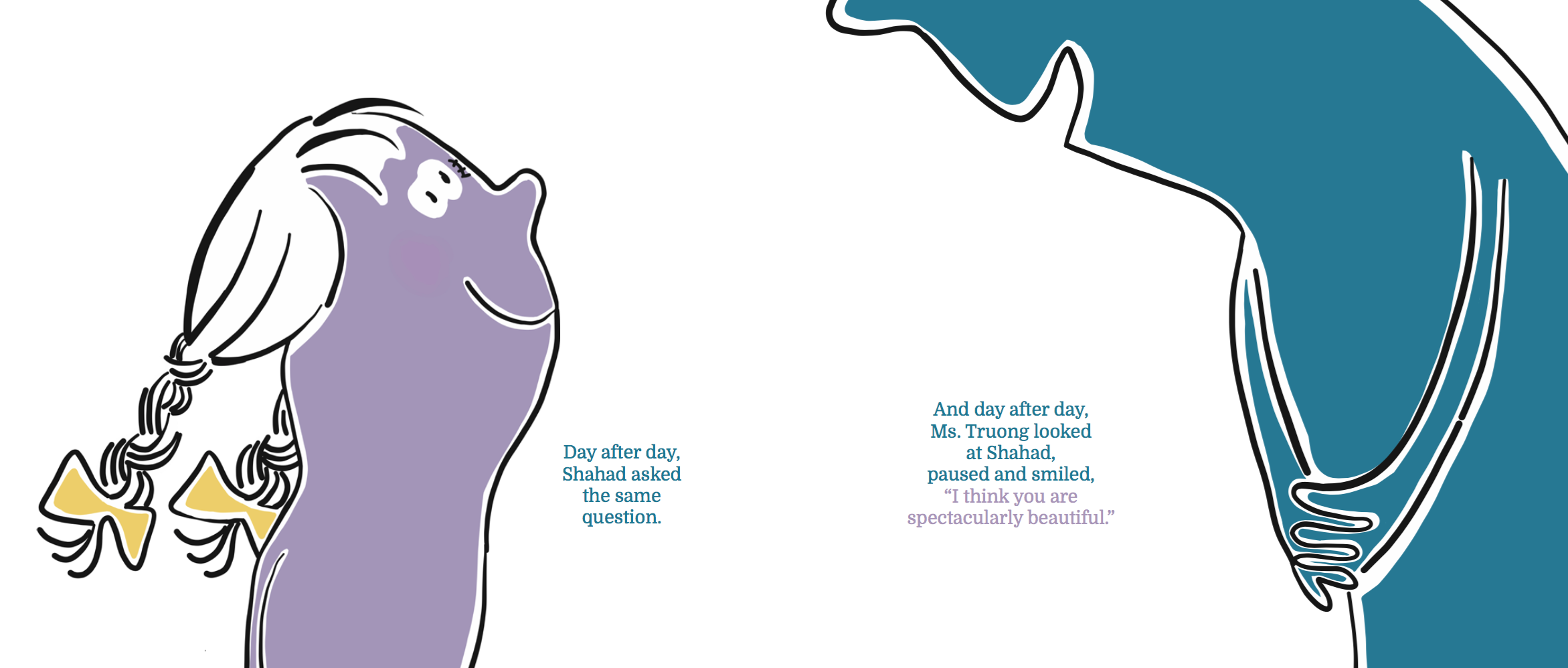 Lisa Lucas started her career writing for Reader's Digest magazine. She later wrote extensively on literacy and health, scripts for movies and television, and historical fiction for middle readers. She was awarded the CIBC Children's Miracle Maker Award and the Canada Post Community Literacy Award. Five years ago, she joined forces with Laurie Stein, a Canadian illustrator, and together they have created over 20 children's books.

Laurie Stein has an Illustration/Design degree from the Ontario College of Art, now OCADU, and a degree in Classical Animation from Sheridan College. Shen illustrates freelance for books, magazines, apps, advertising, and animation. Her clients include Scholastic, Pearson, Nelson, Readers' Digest, PBS, and more. She has worked extensively for a world-renowned children's hospital and her work lines the walls and ceilings throughout. Laurie volunteers teaching painting to those living with cancer through the Art for Cancer Foundation.
Refugees & Immigrants / School & Education / Ages 3-7
Hardcover, 10-9/10 x 9-3/10 inches, 32 pages
ISBN: 978-1-57687-891-0, $16.99 US/CAN
High-res scans to your specification are available upon request; scanning from the book or lifting images from the mechanical file are strictly prohibited. Mandatory credit line: From
Spectacularly Beautiful
by Lisa Lucas with illustrations by Laurie Stein
, published by POW! Kids Books.
For more information, please contact:
Madison Morales
POW! Kids Books
madison@powerHouseBooks.com
View web version
Unsubscribe here