FOR IMMEDIATE RELEASE:
powerHouse Books is pleased to announce the October 2019 release of
EAST HARLEM
The Postwar Years
by Leo Goldstein
Texts by Juan González and A.D. Coleman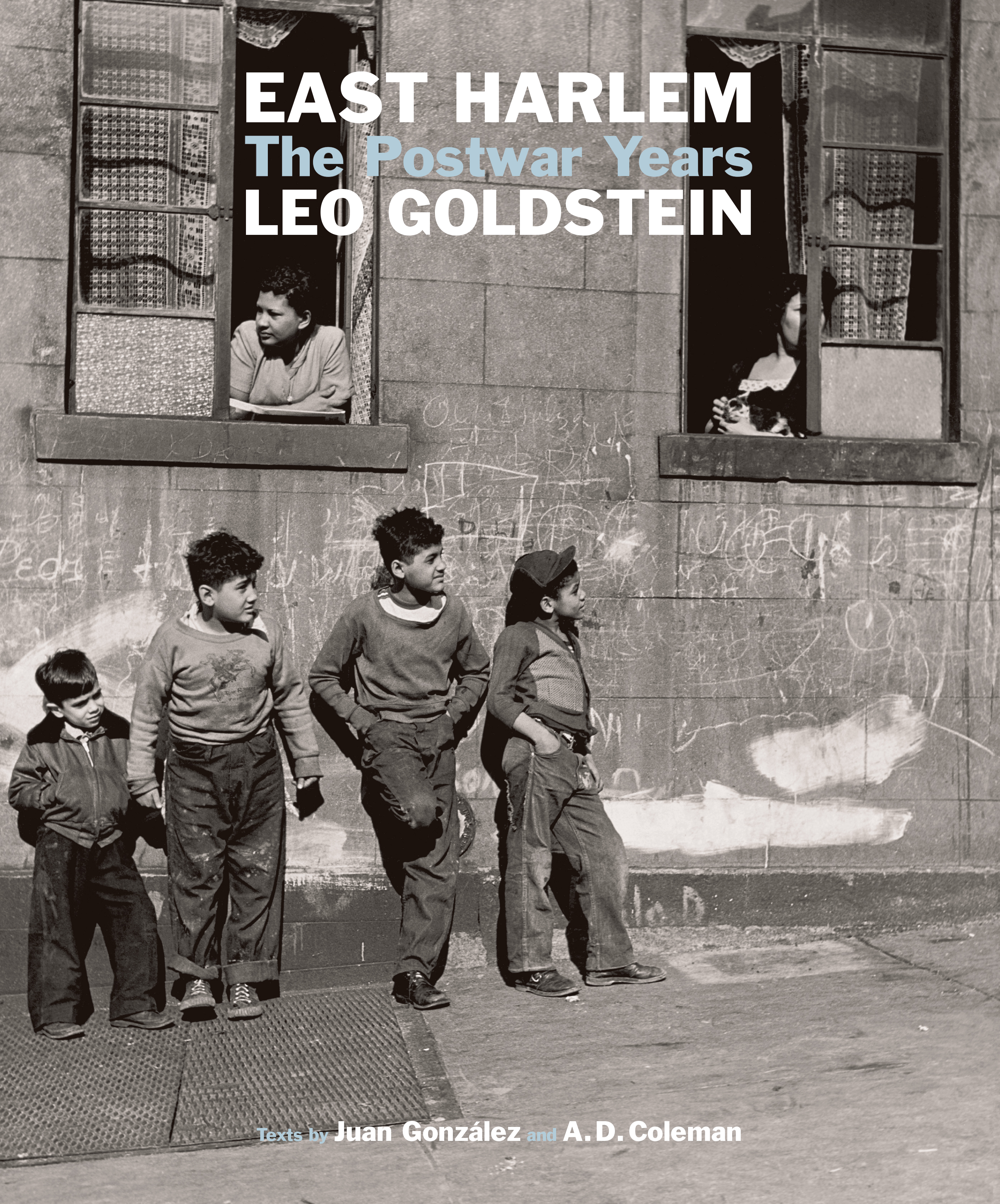 "[In the 1960s we] spawned our own group of activist photographers, people like Frank Espada, Hiram Maristany, and Michael Abramson, who chronicled in their work militant and bold new images of East Harlem and of Puerto Rican life in America. But. . . we now know that there was Leo Goldstein, a solitary photo artist of the 1950s who trained his lens on this heroic but little-known community of migrants. We who lived through those years in East Harlem can assure you, his lens was truer than any of the news articles, movies, or books of the era, and we are all enriched by the work he left behind." –Juan González, from the Preface
For some 70 years, Leo Goldstein's East Harlem body of work remained mostly untouched and unseen. The silver gelatin prints were catalogued in 2016, and a selection is gathered here for the first time. The photographs were taken over a number of years, beginning in 1949 when Goldstein was a member of the Photo League.

The East Harlem corpus, edited by Régina Monfort, represents an important and unique addition to the photographic history of New York City. Because there are no negatives in existence, it was of particular importance to preserve the images in book form and make them available to the public.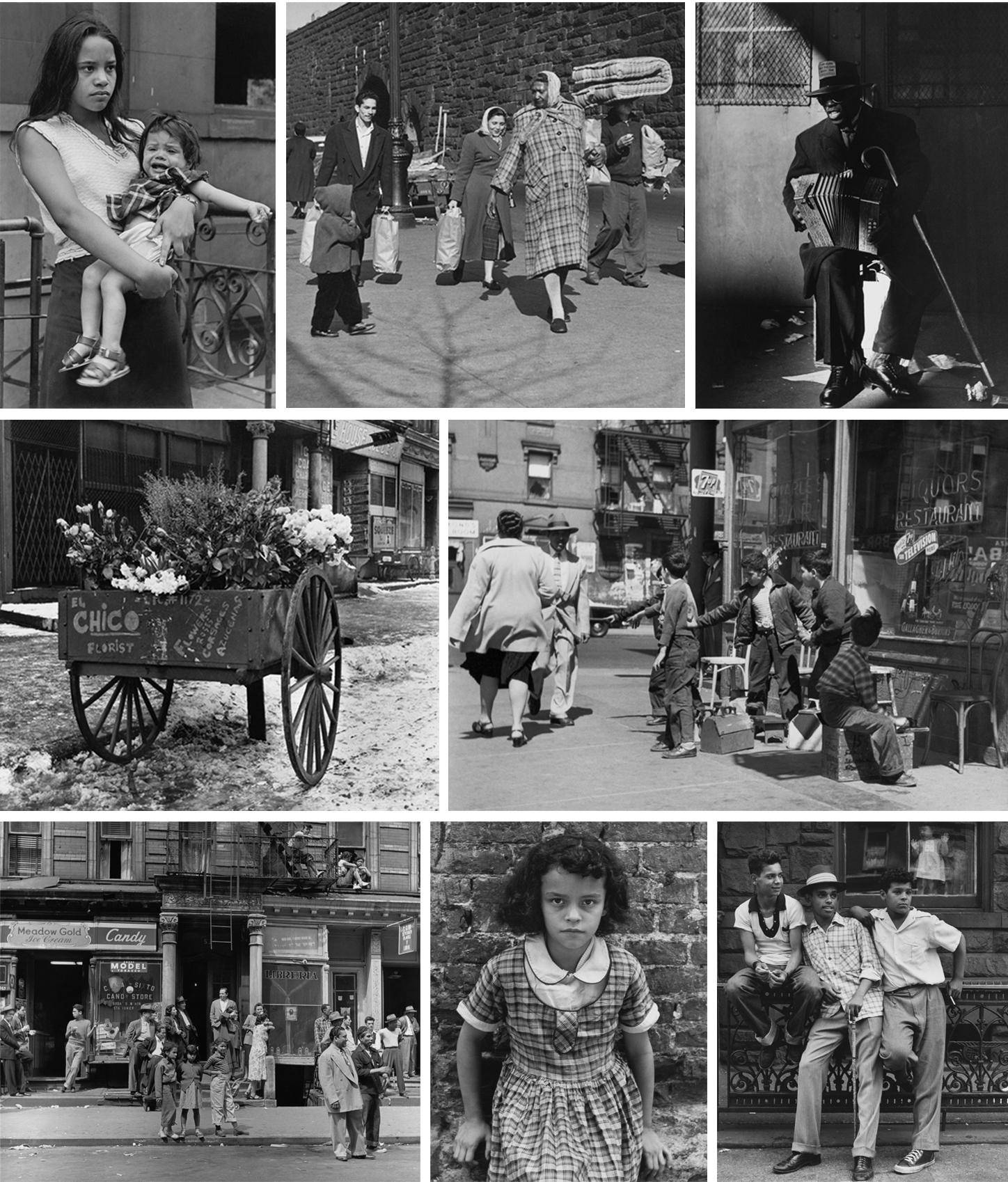 LEO GOLDSTEIN was born in 1901 in Kishinev in the Bessarabian region (now Moldova) of Czarist Russia. Fleeing the pogroms, his family settled in New York City in 1906. He was the fourth child of 13 and went to work at a young age to help support the family. Leo was a talented amateur sculptor and artist, taking up photography when he joined the Photo League in the late 1940s. Goldstein embraced the social documentary tradition of the League and was influenced by legendary members Paul Strand, Lewis Hine, and Berenice Abbott, among others. He died in New York City in 1972.

A small number of Goldstein's images have appeared in exhibits and publications of Photo League work, beginning with the seminal exhibit "This Is the Photo League" (1948–1949). His work is represented by the Howard Greenberg Gallery.

JUAN GONZÁLEZ is an award-winning broadcast journalist and investigative reporter. A two-time winner of the George Polk Award, he is co-host of Democracy Now!, author of Harvest of Empire: A History of Latinos in America, and a founder and past president of the National Association of Hispanic Journalists. He spent 29 years as a columnist for the New York Daily News and is currently the Richard D. Heffner Professor in Communications and Public Policy at the Rutgers School of Communication and Information. González was born in Ponce, Puerto Rico in 1947 and lived as a child in East Harlem during the period when the photographs in this book were taken.

A. D. COLEMAN has published eight books and more than 2,500 essays on photography and related subjects. Formerly a columnist for the Village Voice, the New York Times, and the New York Observer, Coleman has contributed to such periodicals as ARTnews, Art On Paper, and Technology Review. His work has been translated into 21 languages and published in 31 countries. Since 1995, Coleman has served as Publisher and Executive Director of The Nearby Café (nearbycafe.com), a multi-subject electronic magazine where his widely read blog on photography, "Photocritic International," appears.
A partial preview is available by clicking here: East Harlem
High-res scans to your specification are available upon request; scanning from the book or lifting images from the mechanical file are strictly prohibited. Mandatory credit line: From East Harlem by Leo Goldstein, published by powerHouse Books.