FOR IMMEDIATE RELEASE:
powerHouse Books is pleased to announce the November 10, 2015 release of
War Is Beautiful
The New York Times Pictorial Guide to the Glamour of Armed Conflict*

By David Shields
Introduction by Dave Hickey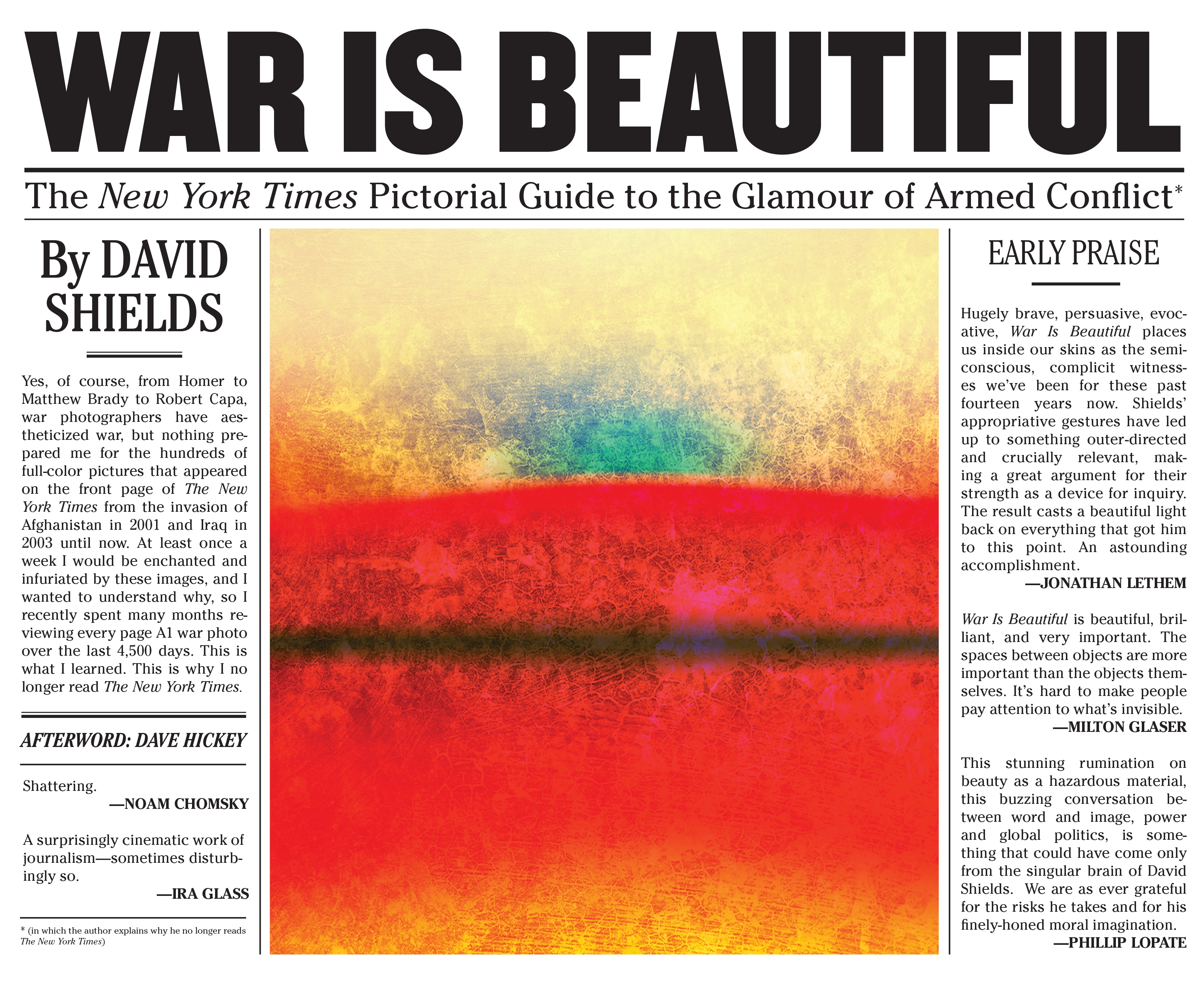 * (in which the author explains why he no longer reads The New York Times)
Bestselling author David Shields analyzed over a decade's worth of front-page war photographs from the New York Times and came to a shocking conclusion: the photo-editing process of the "paper of record," by way of pretty, heroic, and lavishly aesthetic image selection, pulls the wool over the eyes of we its readers; with this discovery Shields forces us to face not only the media's complicity in dubious and catastrophic military campaigns but our own as well. This powerful media mouthpiece, the mighty Times, far from being a check on governmental power, is in reality a massive amplifier for its dark forces by virtue of the way it aestheticizes warfare. Anyone baffled by the willful American involvement in Iraq and Afghanistan can't help but see in this book how eagerly and invariably the Times led the way in making the case for these wars through the manipulation of its visuals. Shields forces the reader to weigh the consequences of our own passivity in the face of these images' opiatic numbing. The photographs gathered in War Is Beautiful, often beautiful and always artful, are filters of reality rather than the documentary journalism they purport to be.
David Shields is the internationally bestselling author of 20 books, including Reality Hunger (named one of the best books of 2010 by more than 30 publications), The Thing About Life Is That One Day You'll Be Dead (New York Times bestseller), and Black Planet (finalist for the National Book Critics Circle Award). Forthcoming are Flip-Side (powerHouse, 2016) and Other People (Knopf, 2017). The recipient of Guggenheim and NEA fellowships, Shields has published essays and stories in the New York Times Magazine, Harper's, Esquire, Yale Review, Village Voice, Salon, Slate, McSweeney's, and Believer. His work has been translated into 20 languages.
I first consciously apprehend how violence can look beautiful when Apocalypse Now came to the big screen—or, rather, I watched this movie feeling horrified, haunted, and in a dream, until I asked the woman beside me what she thought, and she replied, "It's beautiful." This would never have come from my mouth before. I had just seen brutality and atrocity; how could I say that those things were beautiful? But of course, they were, or could be made so. Unlike David Shields, I don't feel called upon to renounce the New York Times for frequently presenting an aestheticized view of our self-defensive follies, imperialist misadventures, and unjust wars. But the images that he has curated and subcategorized until their candy coatings linger uneasily on the palate after we swallowed the rest do raise this question: Whose interest do they serve? When war becomes entertainment and invasion looks fun, who benefits? Shields has done an important thing in making this question so palpable.
—WILLIAM T. VOLLMANN
A work of perilous ambiguity. No one will go Don Quixote against the Times (aren't we clever?), but Shields has. It's quite an extraordinary task he has set for himself here by squarely taking on NYT war images—the aestheticization of horror. The trouble is that the glamour doesn't go away. The quotes accompanying the pics become, effectively, orphans, because—whatever they say—you can't unsee what you see. Shields is totally on point that the NYT is 1) our newspaper of Glorious Carnage, and 2) the soul of photography itself. Shields' book is, woe unto all of us, beautiful, even while it shreds your soul in slo-mo.
—ANDREI CODRESCU
David Shields always has the best ideas about what a book is or might be, what its function is, how it might fit into the culture. Almost alone among writers these days he's an adventurer, putting together volumes that surprise and challenge and threaten us and deliver remarkable insights, intriguing new views of the world. Now he comes with a wonderful book of photographs and quotations—and a truly disruptive purpose. He has put together a dangerous and contemplative book that forces us to see behind the curtain at two great American institutions, government and journalism, wrapped in distressing embrace.
—FREDERICK BARTHELME
As Shields himself acknowledges, his reactions to the photos weren't simple or straightforward. Neither are mine. War Is Beautiful is a great book.
—WHITNEY OTTO
Absolutely right, fast, to the point, and guaranteed to stir things up.
—TIM PARKS
War Is Beautiful is brilliantly destabilizing in the same way Reality Hunger is— startling works, necessary to the progress of culture.
—SARAH MANGUSO
What bugs me most about the Times is how little we actually see. Nothing real is fit to print, apparently. I thought I was the only person who felt this way. This book is important. I'm grateful to Shields for doing it.
—ROSEMARY MAHONEY
I love the theme, the minimalism, the arrangement and selection of quotations (an art form many may not recognize as an art form). This hits me at the level where some of John Berger's work hits me, which is very rare. A fantastic book. A heart-stopper.
—ANDY ROGERS
Photography / Military / Mediawatch / Journalism
Hardcover, 11.25 x 9 inches, 112 pages
ISBN: 978-1-57687-759-3, $39.95 US/CAN
High-res scans to your specification are available upon request; scanning from the book or lifting images from the mechanical file are strictly prohibited. Mandatory credit line: From War is Beautiful by David Shields, published by powerHouse Books.
For more information, please contact:
Sara Rosen, Publicist
tel: 914-819-3927, email: misssararosen@gmail.com
powerHouse Books, 37 Main Street, Brooklyn, NY 11201
Facebook | Tumblr | Twitter | Instagram

© Copyright 2015 powerHouse Books

View web version
Unsubscribe here