FOR IMMEDIATE RELEASE:
powerHouse Books is pleased to announce the November 2018 release of
Community Table:
Recipes for an Ecological Food Future
By The Ecology Center
Foreword by Alice Waters; Introduction by Evan Marks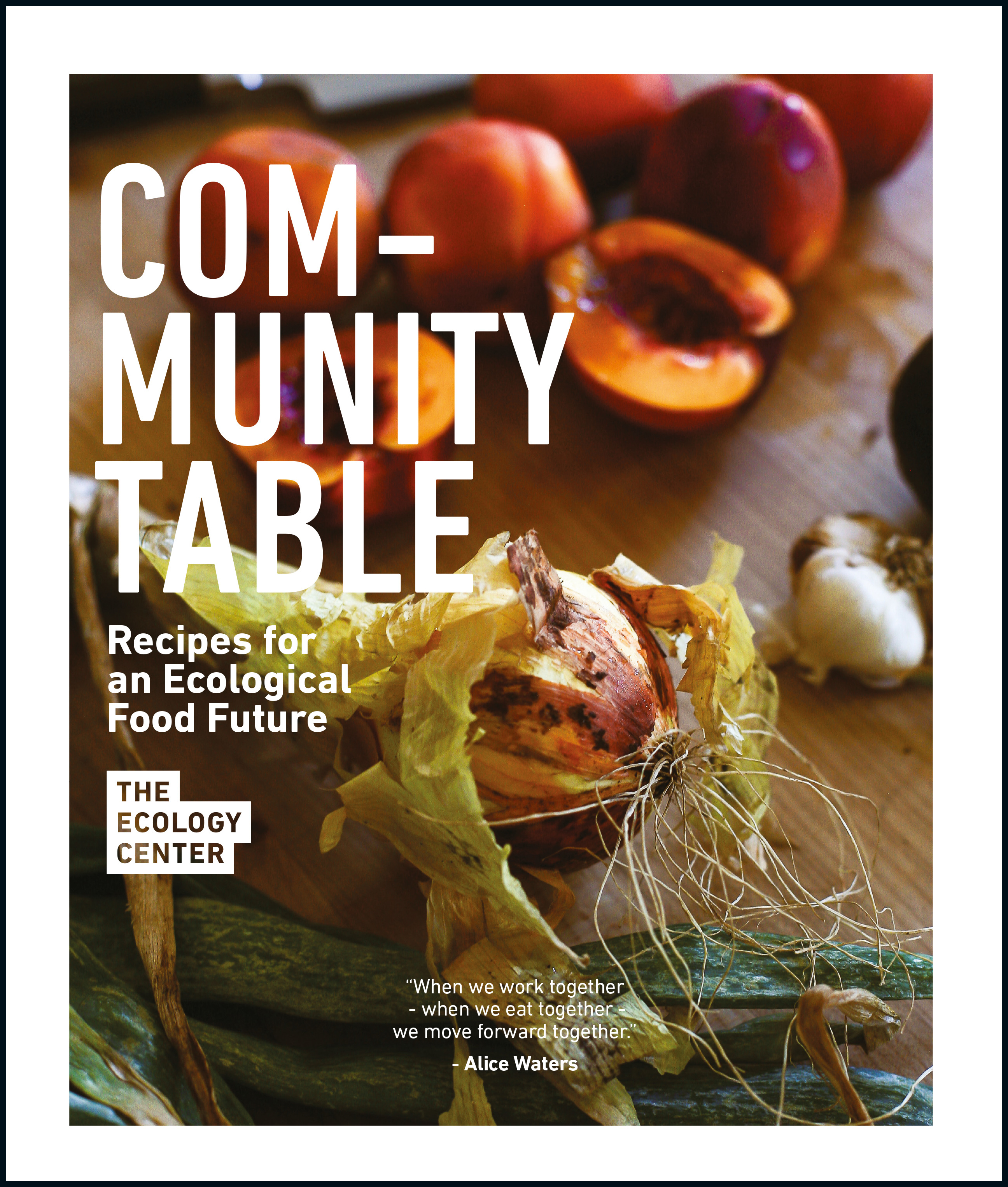 More than a cookbook, this is a manual for an abundant and thriving ecological food future. Community Table: Recipes for an Ecological Food Future reflects The Ecology Center's commitment to building a culinary community that engages consumers, farmers, chefs, and purveyors equally, and celebrates the beauty of connecting around the table. Community Table celebrates the farmers and chefs who model how to prepare and enjoy delicious food while also respecting our shared ecosystem.

Throughout 2016, The Ecology Center invited Community Table Accord chefs and farmers to develop a series of curated dining experiences. Centered around the organization's 10 Principles of a Regenerative Food System, these committed chefs and farmers shared the story of food from farm to plate. Each dinner provided a space for community education as well as inspired dialogue around the challenges and solutions inherent in our food system.

This extraordinary series was documented to create a one-of-a-kind cookbook. This book celebrates a year's worth of incredible dinners through a deep exploration of our food landscape. Chefs, farmers, and purveyors share their role in the food system to build awareness and demonstrate opportunities for all to make a change. This is The Ecology Center's first of what they hope will be many manuals to be written, so that together we can continue to improve our food system and celebrate those who lead the way.

From seasonally-inspired recipes to sourcing suggestions to addressing the importance of polyculture farming, Community Table merges diverse recipes and resources with actionable tips and solutions. In doing so, the table is set for an abundant and nourishing future that celebrates delicious food and the inherent interconnectedness of our ecosystems.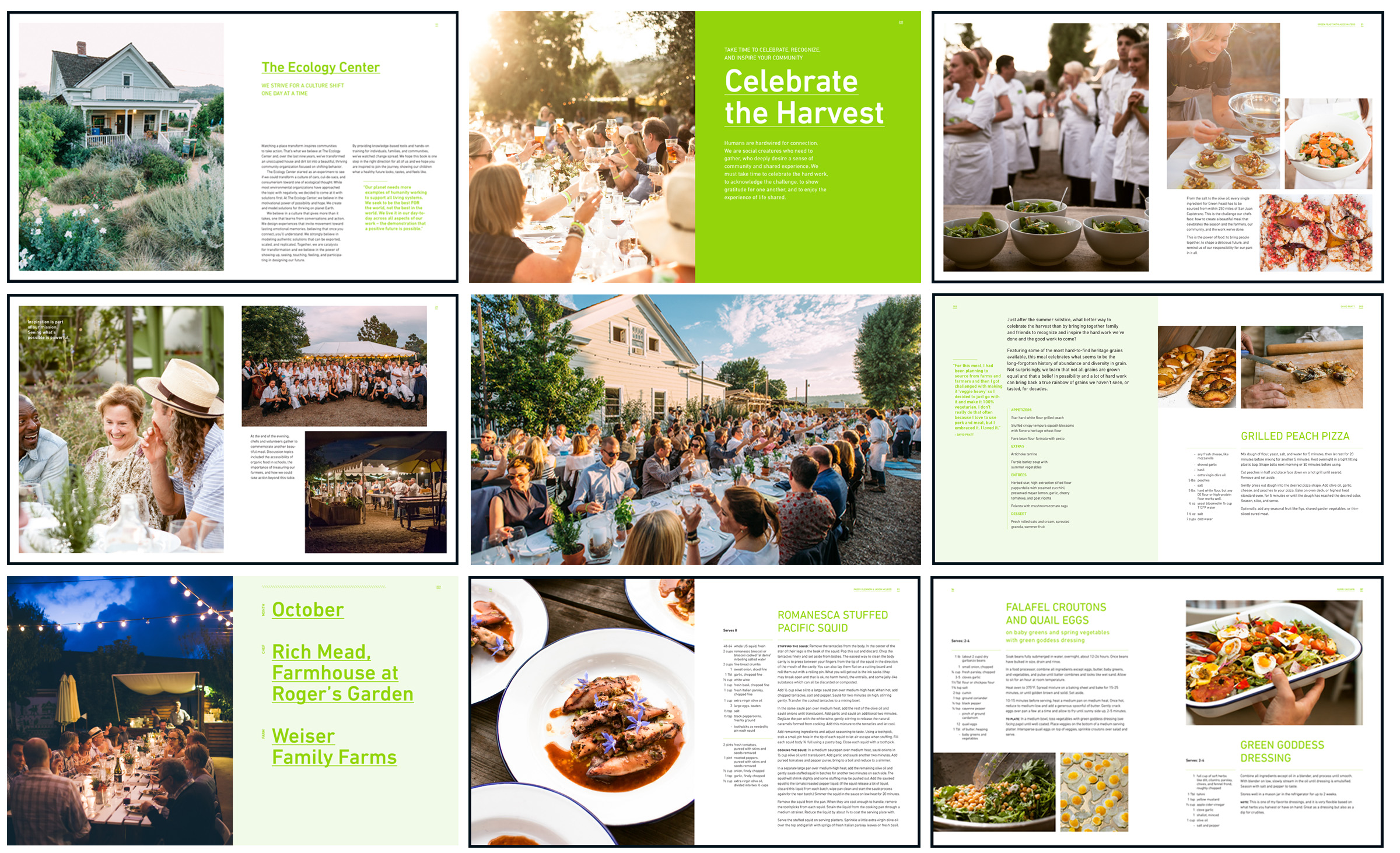 The Ecology Center is a non-profit organization located in San Juan Capistrano, California that models creative solutions for thriving on planet Earth. The Ecology Center believes everyone should have access to the tools, knowledge, and skills that promote healthy communities and an abundant future for all. They take pride in curating transformative ecological experiences for everyone and strive to live in a world with a culture that gives more than it takes. Together, we can inspire change!

Based in the historic Congdon Farmhouse they transformed an empty dirt lot into an ecological oasis. It's their belief that, together, we can create a healthy, abundant future.

With his background in permaculture and agroecology, and, having worked extensively in California and Hawaii and internationally in Costa Rica, Peru, Mexico, Ghana, and Nigeria, Evan Marks knows that people have the ability to directly impact the environment through individual change. As the founder and director of The Ecology Center, Evan Marks is a visionary leader pushing the regenerative conversation forward through action and leadership.
A partial preview is available by clicking here: Community Table
Community Table / Food Events / Cookbook / Hosting Recipes / Food for Thought
Hardcover, 7-3/4 x 9-1/4 inches, 320 pages
ISBN: 978-1-57687-882-8, $40.00 US/CAN
High-res scans to your specification are available upon request; scanning from the book or lifting images from the mechanical file are strictly prohibited. Mandatory credit line: From Community Table by The Ecology Center, published by powerHouse Books.
For more information, please contact:
Natalie Balthrop
natalie@theecologycenter.org

Kathryn Riordan
kathryn@theaceagency.com

Madison Morales
madison@powerhousebooks.com
Facebook | Twitter | Instagram

© Copyright 2018 powerHouse Books

View web version
Unsubscribe here