FOR IMMEDIATE RELEASE:
powerHouse Books is pleased to announce the October 2018 release of
Amongst the Liberal Elite:
The Road Trip Exploring Societal Inequities Solidified by Trump (RESIST)
by Elly Lonon
Art design by Joan Reilly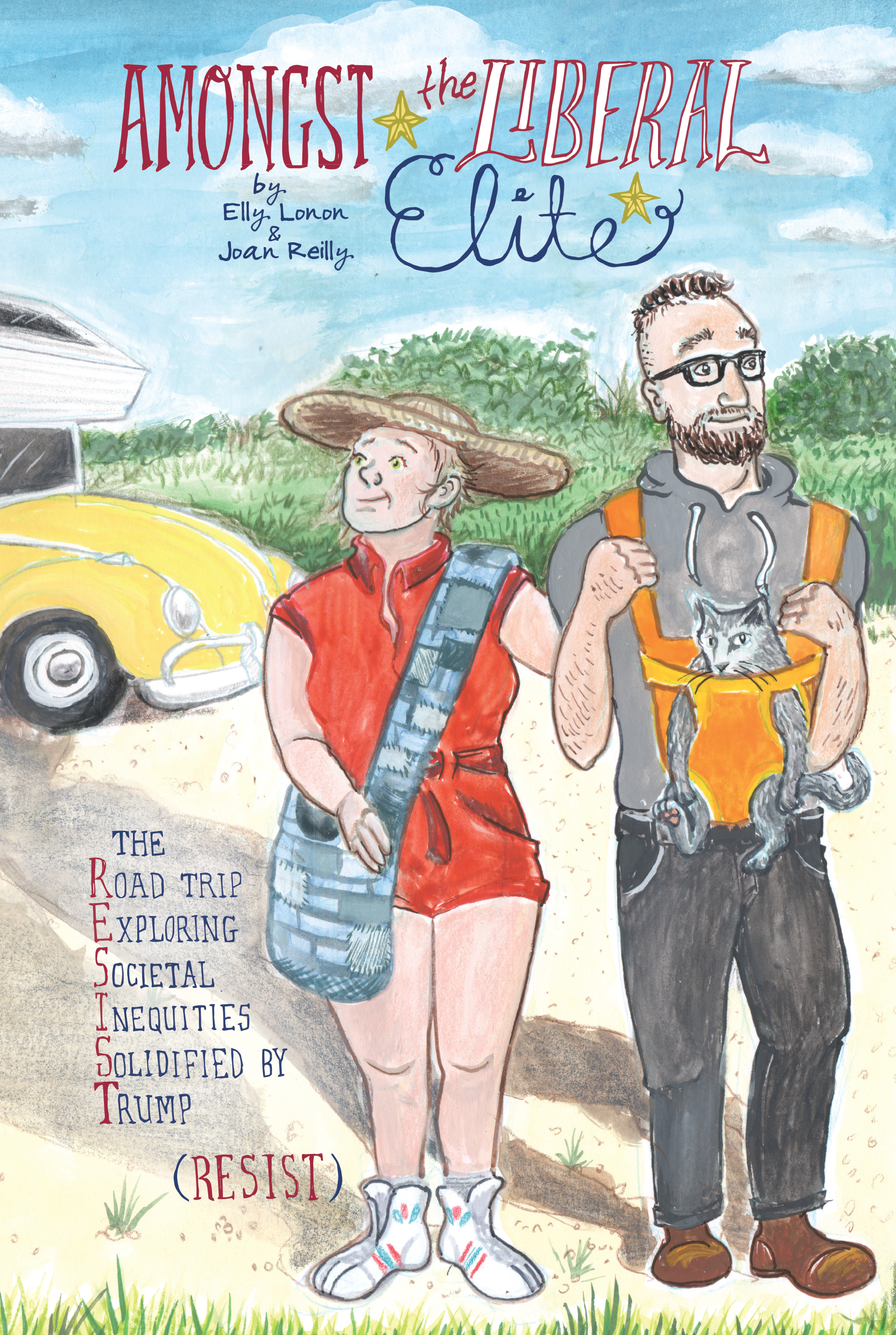 Getting woke is hard. As this couple is discovering under 45's regime, it takes more than listening to NPR on our daily commutes and watching Jon Stewart cameos on our phones in bed while we sip craft beer from artisanal glassware made by at-risk women on another continent to make us global citizens. That won't stop Alexandra and Michael from trying, though.

Based on the successful McSweeney's column, Amongst the Liberal Elite takes readers on a cross-country road trip with Alex and Michael, romantic partners whose voices will resonate with fans of shows such as Portlandia, Parks and Recreation, Full Frontal with Samantha Bee, and Last Week Tonight with John Oliver. The couple decides to use their tax refund to reconnect with their fellow Americans via a cross-country road trip and, more specifically, better understand how Trump won the election. In a quest to visit The World's Largest Frying Pan (of which there are six in the U.S.) Alex and Michael embark on a journey marked with personal and societal realizations. Arguments about topics ranging from mom-shaming to misogyny related to their pet cat, unsuccessful attempts at yoga meditations in small spaces, and anticlimactic touristic attractions that deepen their gloom about the nation, bring Alex and Michael clarity about what it means to resist. Amongst the Liberal Elite is the political satire we've all been waiting for–one that offers comic relief from ourselves.

For more information on the book, visit AmongstTheLiberalElite.com.

Advance Praise for Amongst the Liberal Elite:
"Elly and Joan have performed a spectacular magic trick with this book–they've reached into our heads and pulled out our collective ids, in all their self-centered, inadequate, well-meaning, earnest, BPA-free glory, given them devastatingly accurate haircuts, and named them Alex and Michael. Alex and Michael are here to provoke, to question, to make you roll your eyes so deep in your head you see your brain stem–but also to chuckle in recognition, because really, we've all got at least a little Alex and Michael in us. Elly and Joan's sharply observed, witty, generous, self-mocking epic is a gift for anyone who's ever taken a journey from the frying-pan of their own head to the oven of our burning world."
–Emily Flake, cartoonist for The New Yorker and author of Mama Tried

"The wit and the laser-focused reads in Amongst the Liberal Elite left me gasping–from both laughter and also self-recognition. This is wildly inventive satire of our sociopolitical climate that doesn't pull any punches, but is never mean. It's actually miraculous that something so smart and so generous came from such a dumb time. The references are spot-on and up-to-the-minute (how!?) but I'll be returning to this book for years. Also, it should be noted that even though Michael is a fictional creation and also a cartoon, he is still a snack and for that I am grateful."
–R. Eric Thomas, playwright and columnist at Elle.com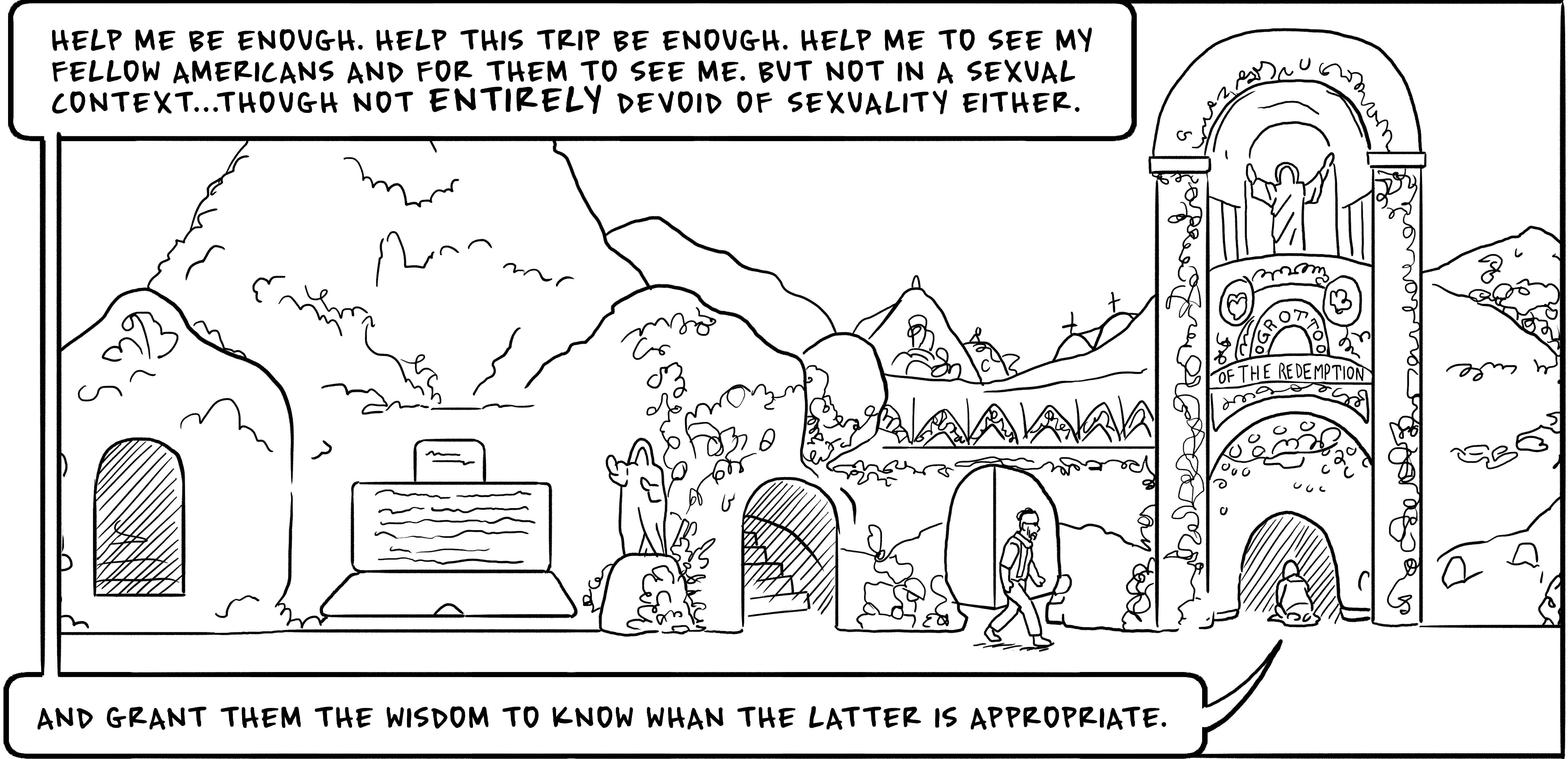 "Amongst the Liberal Elite is the book everyone with outrage fatigue (and a sense of humor) needs."
–Jen Mann, New York Times best selling author of People I Want to Punch in the Throat

"Elly and Joan had me at 'giant granite edifice celebrating the patriarchy' and kept me through the final page. Amongst the Liberal Elite is a hilarious, tender look at a couple desperate to break free (but not too free) from their privilege and inherent biases and make a difference (any difference!) in Trump's America. I laughed out loud on nearly every page, and cringed in recognition almost as often."
–Heidi Stevens, columnist at The Chicago Tribune

Elly Lonon, a member of the Liberal Elite herself, is still recovering from growing up in a red state. Born and raised in North Carolina, she moved to Manhattan for graduate school and to pursue a career in the music business. Weary from consistent marginalization by the patriarchy, she left both the industry and NYC, opting to work for a not-for-profit and moving to the suburbs of Jersey where living near a Superfund site promptly gave her cancer. Once in remission, she read far too many self-help books, learned to embrace life, and abandoned her previous career to write and procreate.

Joan Reilly's work was featured most recently in RESIST!, a comics newspaper edited by Francoise Mouly and Nadja Spiegelman, and in Draw the Line (drawthelinecomics.com), an online anthology of comics promoting political action. Her comics and illustration have been published in many anthologies and literary magazines over the last two decades. She is a co-editor of The Big Feminist BUT: Comics About the IFs, ANDs & BUTs of Feminism, and created illustrations for the "Ask Marilyn" column in Parade magazine for over ten years. For more information, visit joanreilly.com.
A partial preview is available by clicking here: Amongst the Liberal Elite
RESIST / Graphic Novel / Road Trip
Hardcover, 6 x 9 inches, 156 pages
ISBN: 978-1-57687-905-4, $19.95 US/CAN
High-res scans to your specification are available upon request; scanning from the book or lifting images from the mechanical file are strictly prohibited. Mandatory credit line: From Amongst the Liberal Elite by Elly Lonon and art design by Joan Reilly, published by powerHouse Books.
For more information, please contact:
Madison Morales
madison@powerhousebooks.com
Facebook | Twitter | Instagram

© Copyright 2018 powerHouse Books

View web version
Unsubscribe here