FOR IMMEDIATE RELEASE:
powerHouse Books is pleased to announce the June 2018 release of
The world of the hypebeast has led to a virtual destruction of the traditional delineation between street and "high" fashion. Limited edition pieces enjoy global cult status, draw thousands of hopeful purchasers, and can resell for up to 10-20x retail immediately after release on sites like Grailed.

There is an entire culture surrounding these launches, or "drops." Streetwear aficionados travel intercontinentally to attend them, almost like concerts, and wear their rarest shoes and gear, flexing for each other while chatting, comparing, and hoping to cop one-time-only limited pieces. Kids rock grails and geek out, like an OG subreddit come to life. These lines comprise some of the most interesting fashion events in the world, and are fast becoming streetwear's equivalent of the fashion shows that haute ateliers host each year at fashion weeks in Paris, New York, Milan, and beyond.

Drop dives into the world of streetwear queue culture, with original photos of product launches from across the globe, including events in New York, Los Angeles, London, Paris, Seoul, Beijing, Tokyo, and more, from brands including Supreme, A Bathing Ape, Patta, Yeezy, Anti Social Social Club, Vetements, Off-White, and others.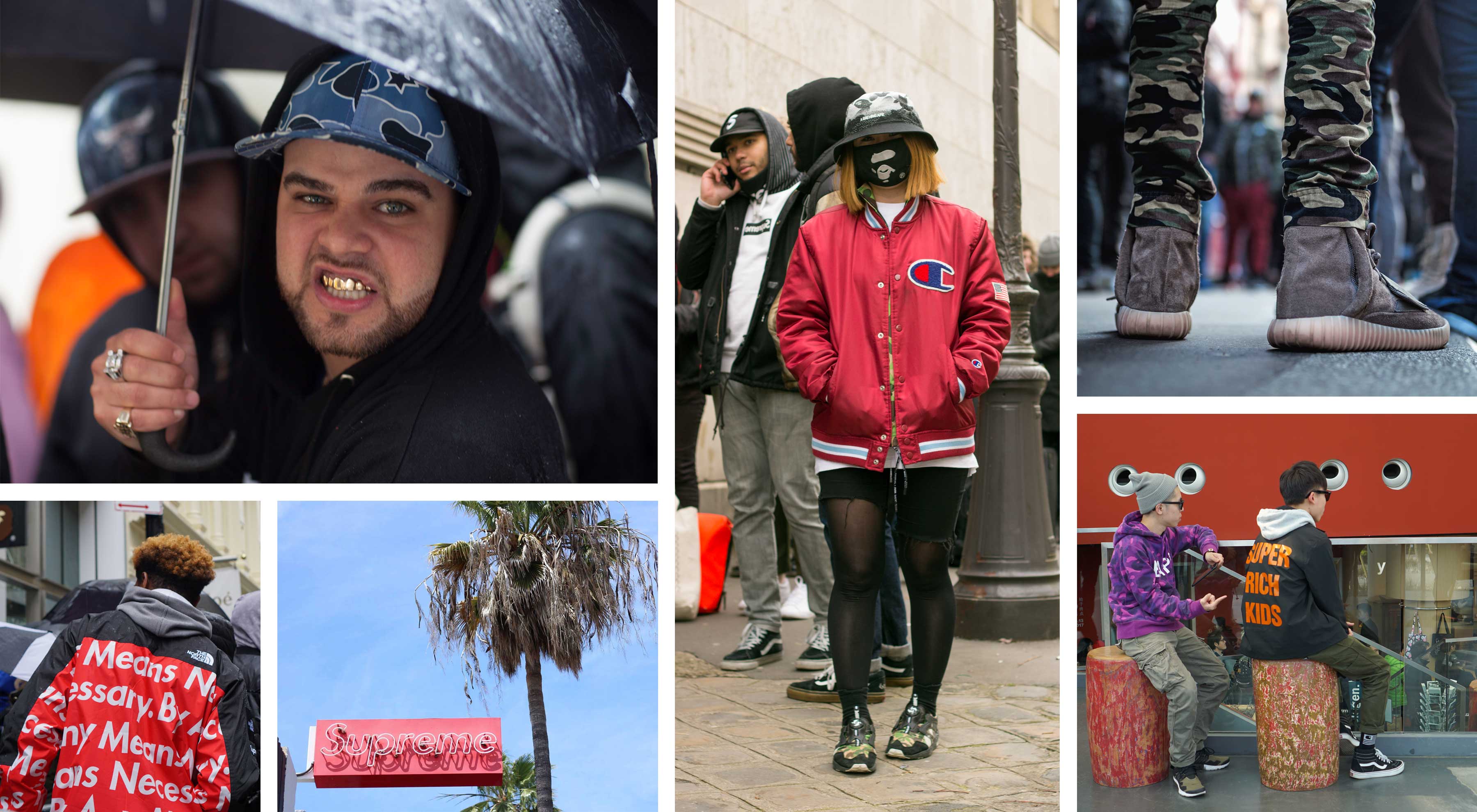 Byron Hawes is a New York-based writer and designer. He is the founder and editor of the underground design magazine The Après Garde, and a co-founder of I-V, a boutique architecture and design firm that has done projects including a recording studio and offices for OVOsound, Campari's Canadian HQ, and Spin Toronto.

He currently serves as contributing editor: architecture and design for Hypebeast, and senior editor for Flofferz, and was previously a consulting editor at Architectural Digest China and Greater China Editor for BlackBook Magazine, as well as having contributed to publications including Monocle, HighSnobiety, Vice, Fucking Young!, Wallpaper, and Azure, amongst others.

A partial preview is available by clicking here: Drop
Pop Culture / Design / Streetwear
Hardcover, 9 x 12 inches, 176 pages
ISBN: 978-1-57687-878-1, $45.00 US/CAN
High-res scans to your specification are available upon request; scanning from the book or lifting images from the mechanical file are strictly prohibited. Mandatory credit line: From Drop by Byron Hawes, published by powerHouse Books.
For more information, please contact:
Madison Morales
madison@powerhousebooks.com
Facebook | Twitter | Instagram

© Copyright 2018 powerHouse Books

View web version
Unsubscribe here