FOR IMMEDIATE RELEASE:
powerHouse Books is pleased to announce the October 2016 release of
The Artists' and Writers' Cookbook
A Collection of Stories with Recipes
Edited by Natalie Eve Garrett
with illustrations by Amy Jean Porter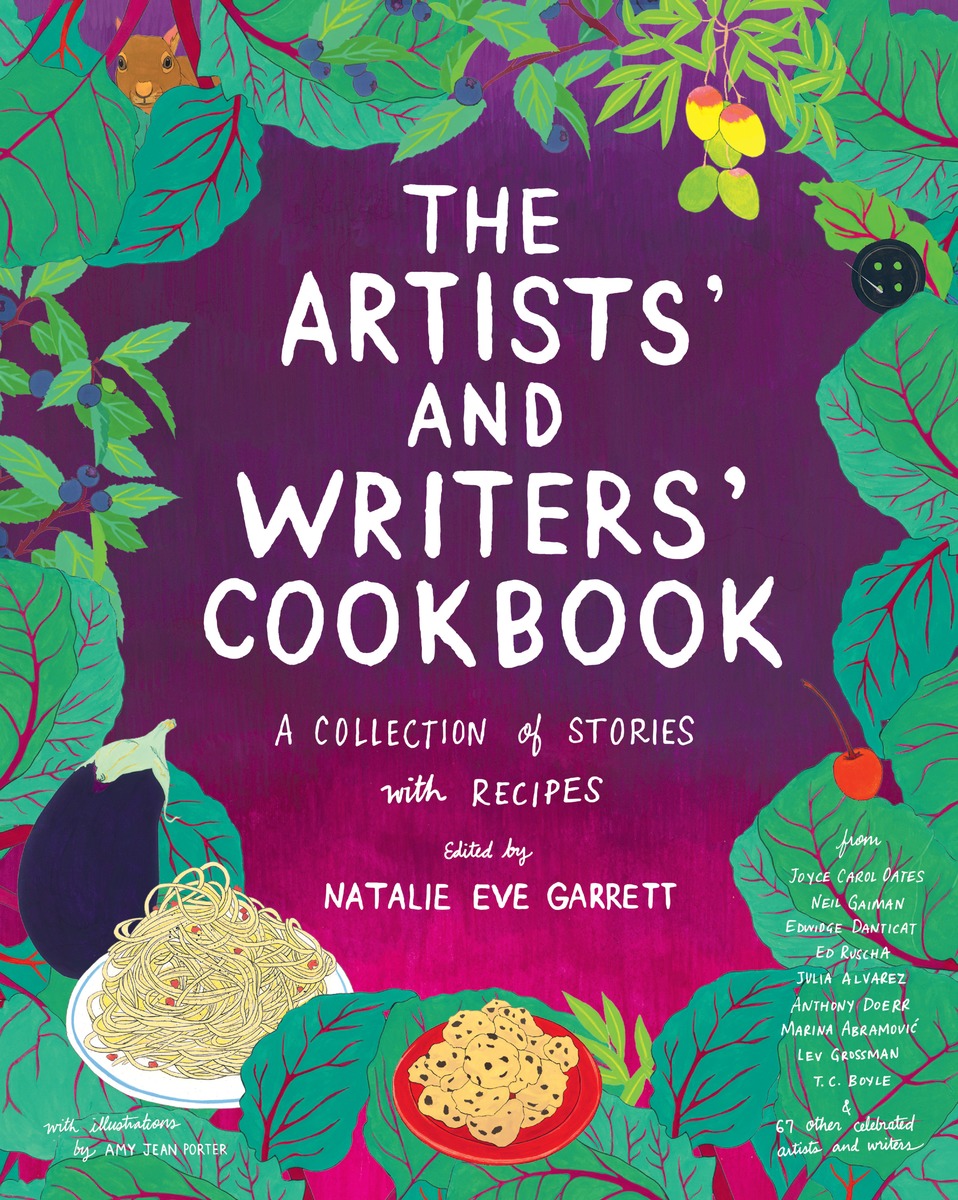 The Artists' and Writers' Cookbook is a collection of personal, food-related stories with recipes from 76 contemporary artists and writers.
Inspired by a book from 1961, The (original) Artists' & Writers' Cookbook included recipes from the likes of Marcel Duchamp, Man Ray, Marianne Moore, and Harper Lee. This new, vibrantly illustrated version includes stories and recipes from Anthony Doerr, Leanne Shapton, Joyce Carol Oates, John Currin and Rachel Feinstein, Ed Ruscha, Neil Gaiman, Edwidge Danticat, Aimee Bender, Gregory Crewdson, James Franco, Francesca Lia Block, Swoon, Nelson DeMille, Rick Moody and Laurel Nakadate, Nikki Giovanni, T.C. Boyle, Lev Grossman, Roz Chast, Heidi Julavits, Marina Abramović, Curtis Sittenfeld, Julia Alvarez, and many others.
In The Artists' and Writers' Cookbook, Anthony Doerr lures us out into the wild to find huckleberries and happiness. Neil Gaiman makes a perfectly eerie cheese omelet while Ed Ruscha associates his cactus omelet with "a time of doom." Yiyun Li eats rations in Beijing while Edwidge Danticat prepares a soup to celebrate freedom. Nelson DeMille reminisces about a meal he ate 40 years ago when serving in Vietnam; Kamrooz Aram recalls childhood "picnics" in his basement in Tehran during air raids. Sanford Biggers updates a soul food classic—"something tasty to lessen the bitter taste of consistent, systematic oppression." Paul Muldoon and Aimee Bender conjure food-related apocalyptic visions. Marina Abramović shares a dish best consumed on top of a volcano, Elissa Schappell dreams of playing Serge Gainsbourg records to snails, and Padgett Powell tastes a dish that reverses time and space. Daniel Wallace woos with an eggplant sandwich. Francesca Lia Block tells us how to fall in love.
The essays are at turns comedic and heart-wrenching, personal and apocalyptic, with recipes that are enchanting to read and recreate. One part cookbook and one part intimate self-portrait, The Artists' and Writers' Cookbook is a portal into the kitchens and personal lives of an unmatched collection of contemporary artists and writers.
Natalie Eve Garrett is an artist, writer, and editor who likes to cook. Her work can often be seen on The Hairpin. A graduate of Yale University and the University of Pennsylvania's School of Design, Natalie lives in a town just outside DC and along the Potomac River with her husband and two children.
A partial preview is available by clicking here: The Artists' and Writers' Cookbook
Cooking / Culinary Creativity / Inspirational Provender
Hardcover, 8 x 10 inches, 176 pages
ISBN: 978-1-57687-788-3, $30.00 US/CAN
High-res scans to your specification are available upon request; scanning from the book or lifting images from the mechanical file are strictly prohibited. Mandatory credit line: From The Artists' and Writers' Cookbook edited by Natalie Eve Garrett, published by powerHouse Books.
For more information, please contact:
Madison Morales
powerHouse Books, 37 Main St, Brooklyn, NY 11201
madison@powerhousebooks.com
Facebook | Twitter | Instagram

© Copyright 2016 powerHouse Books

View web version
Unsubscribe here