FOR IMMEDIATE RELEASE:
powerHouse Books is pleased to announce the April 2018 release of
The New York Pigeon:
Behind the Feathers
Photography by Andrew Garn, Text by Emily S. Rueb and Rita McMahon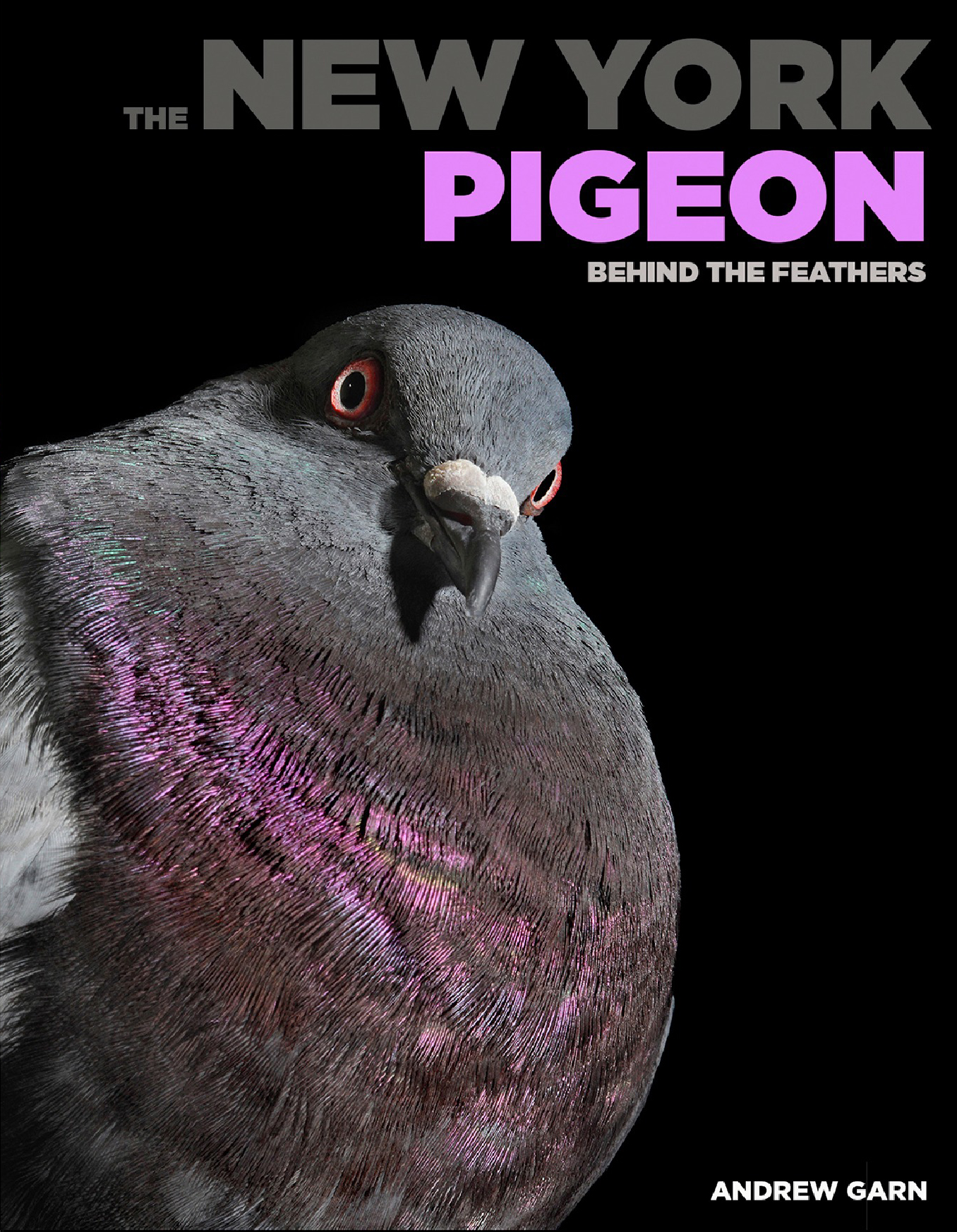 The New York Pigeon is the product of eight years of passionate photographic inquiry of pigeons' undeniable power and allure. As seen on the cover of New York magazine and The New York Times, Garn's dramatic, hyper-real studio portraits capture the personalities, expressiveness, the glorious feather iridescence, and deeply-hued eyes of our often overlooked, city-dwelling brethren. High-speed strobe photography illustrates their graceful flight and dramatic wing movements (as featured in Audubon magazine).

While The New York Pigeon is primarily a photography book, it also tells the five-thousand-year story of the feral pigeon. Why are pigeons so successful in cities? Why do they have such diverse plumage? How have pigeons adapted to survive on almost any food? Why are they able to fly up to 500 miles per day, but rarely do?

The book also examines how Harvard psychologist B.F. Skinner taught pigeons to do complicated tasks, including tracking missile targets and playing competitive games. We also learn how pigeons see in the ultraviolet light spectrum and that half of their brain is used for visual perception.

The New York Pigeon elevates this much-maligned bird to its rightful place, illuminating the graceful beauty of nature that is alive in New York City's midst. (Gritty, determined, resilient and beautiful –the pigeon is a good metaphor for New York City itself). With this book, Garn invites you to take a closer look at the pigeon– you will never see them the same way again.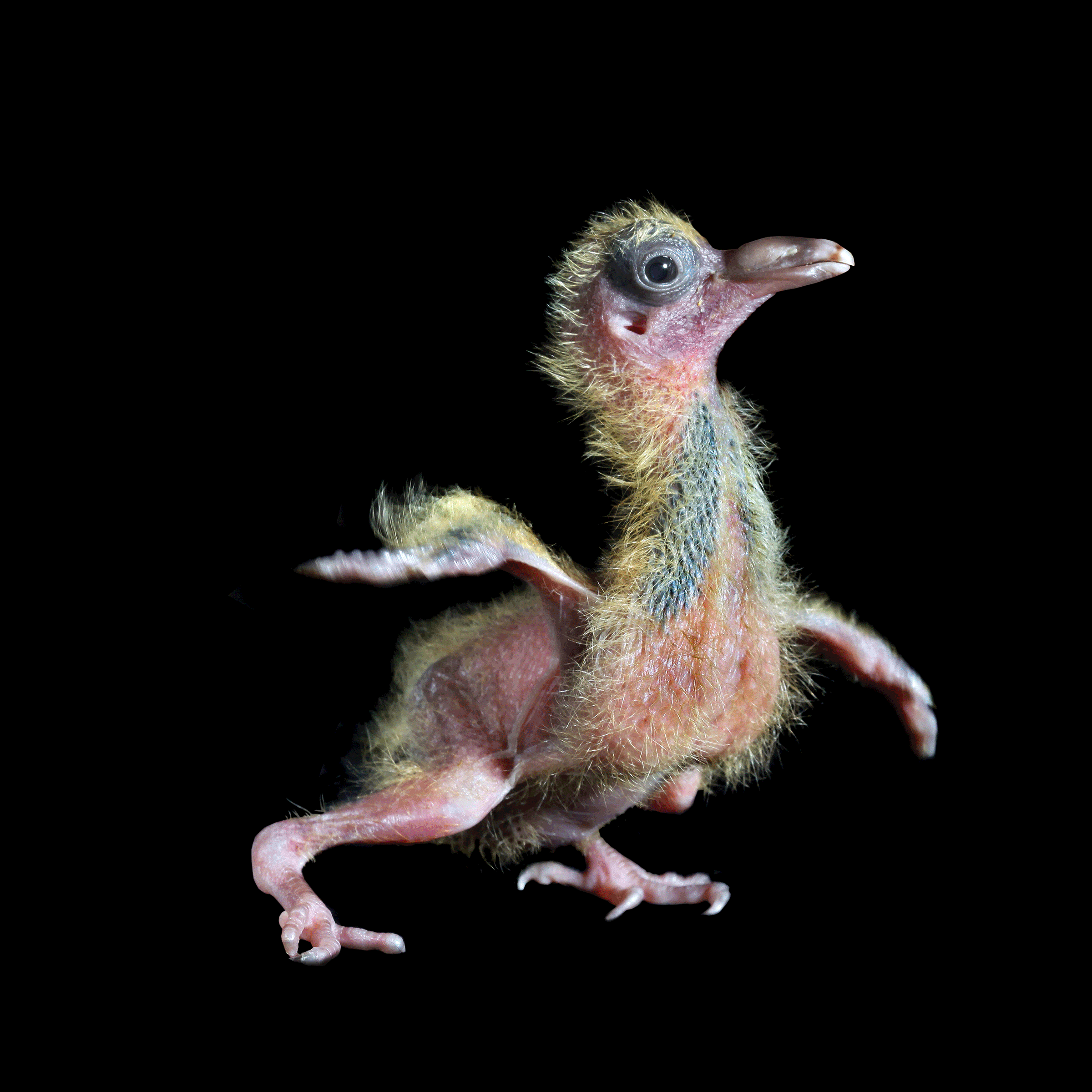 Andrew Garn is a native New Yorker who grew up mostly oblivious to the pigeons around him. His enlightenment began in 2008, when he began photographing, rehabilitating, and observing Columba Livia. He has exhibited photographs, video installations, and sculptures of pigeons at OK Harris Works of Art in SoHo, A.M. Richard Fine Art in Brooklyn, and the American Pigeon Museum in Oklahoma City. By documenting the entire spectrum of pigeon development, including full-grown, newborns, babies and "squeakers," he has grown to love these birds.

Mr. Garn is a fine art and editorial photographer whose work has been widely exhibited and appeared in the pages of numerous magazines including The New York Times Magazine, Fortune, Forbes, Interview, Vogue, Vibe, Time, Newsweek, Der Spiegel, French Photo, Elle Décor, New York, and Bloomberg LP. He is the recipient of grants from the Fulbright Scholarship Program, the New York State Council on the Arts, the Graham Foundation, the National Endowment for the Arts, and the J.M. Kaplan Fund, among others.

His previous books include Exit to Tomorrow: The History of the Future (Rizzoli, 2007), Subway Style: Architecture and Design of the NYC Subway (Stewart, Tabori & Chang, and the MTA, 2005), The Houseboat Book (Rizzoli/Universe, 2003), and Bethlehem Steel (Princeton Architectural Press, 2000).

Rita McMahon is the founding director of the Wild Bird Fund, New York City's only wildlife rehabilitation and education center. The non-profit veterinary facility treats over 5,000 birds a year.

Emily S. Rueb is an editor for The New York Times metropolitan section. She writes regularly on avian subjects and was the creator of Bird Week and the "Hawk Cam" which chronicled the lives of a red-tailed hawk family in Washington Square Park.
A partial preview is available by clicking here: The New York Pigeon
Pigeons / Bird Photography / New York
Hardcover, 8-1/2 x 11 inches, 144 pages
ISBN: 978-1-57687-869-9, $29.95 US/CAN
High-res scans to your specification are available upon request; scanning from the book or lifting images from the mechanical file are strictly prohibited. Mandatory credit line: From The New York Pigeon by Andrew Garn, published by powerHouse Books.
For more information, please contact:
Madison Morales
madison@powerhousebooks.com
Facebook | Twitter | Instagram

© Copyright 2018 powerHouse Books

View web version
Unsubscribe here